Interested in a new ear piercing or want to know more about jewelry options? From helix piercings to curated ears, there's a piercing for everyone!
Piercing is an incredibly rewarding experience that can distinguish many of life's rites of passage. This is a popular way to show off your personality and express yourself! The most common body parts to get pierced are your ears.
If you are new to body piercings or looking for your next one, you should know there are many options for ear piercings. These include so many fun jewelry combinations to try with endless possibilities! We do everything from lobes to helix piercings and more.
If you're interested in a new ear piercing or want to know more about the jewelry that goes with it, you're in luck. This guide will inform you about 5 types of ear piercings and jewelry you can wear in them!
1. Ear Lobe Piercing
Our most popular piercing by far, ear lobes are a simple addition to adorn your body. Starting at 5 years old we pierce clients who want to join the party. Fun to wear and easy to maintain, these piercings are a beautiful addition to anybody. Doesn't matter which side you get! Right or left ear stereotypes are myths. We believe you should pierce either side based on your anatomy. Or better yet, get both!
Lobe Jewelry
Ear Lobe Jewelry is traditionally done at an 18 gauge, and even at larger sizes, can be a very forgiving piercing. Healing has an average time of 2-4 months, these piercings are a common rite of passage in our society. Starting with a Threadless Flatback allows the future downsize and forever size to become part of your permanent collection. Items like a Threadless White Gold CZ Prong, Threadless Gold Ball, and Threadless Gold Tri Bead can be interchanged depending on mood and outfit.
2. Helix Ear Piercing
Back to another fun ear piercing, except this time, it's on the helix. Remember that a helix piercing is an amazing way to add balance and pizzazz into your life. In addition to getting your lobes, consider a helix ear piercing! In fact, why not get both?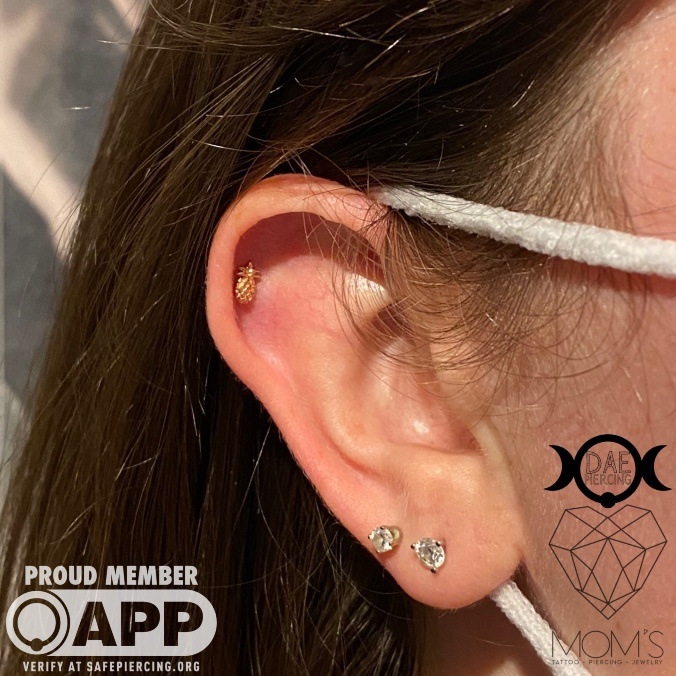 Helix Ear Piercing Jewelry
People love using simple gold or titanium jewelry for a helix piercing. For initial piercing, we start these with a Threadless Flatback so your piercing will heal with minimal impact on the channel. You can add any Threadless Top to these styles. For instance, this Helix by Dae with this Yellow Gold Pineapple by Junipurr. Or check out this Titanium CZ Trinity that adds extra sparkle to the mix while balancing your look. Once healed in about 6 months, you can then switch to a hoop if you'd like.
3. Tragus Piercing
You may have witnessed Tragus piercings have become more popular over the years. The tragus piercing sits on an area of cartilage that partially covers your ear canal, that small section above your earlobes. These piercings look great on pretty much everyone.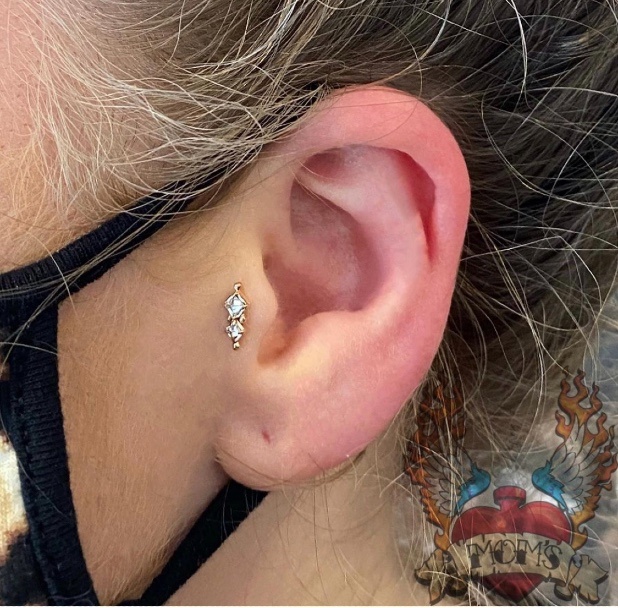 Tragus Piercing Jewelry
As far as your options for jewelry go, a nice delicate stud is the best option. Depending on anatomy and boldness, there are smaller pieces of jewelry that have intricate designs. For instance, this White Gold Twilight with Genuine Diamonds by Tawapa we think is a divine beauty for one of our favorite clients! We also recommend Buddha Jewelry White Gold Zuri CZ  for this spot as a fantastic option!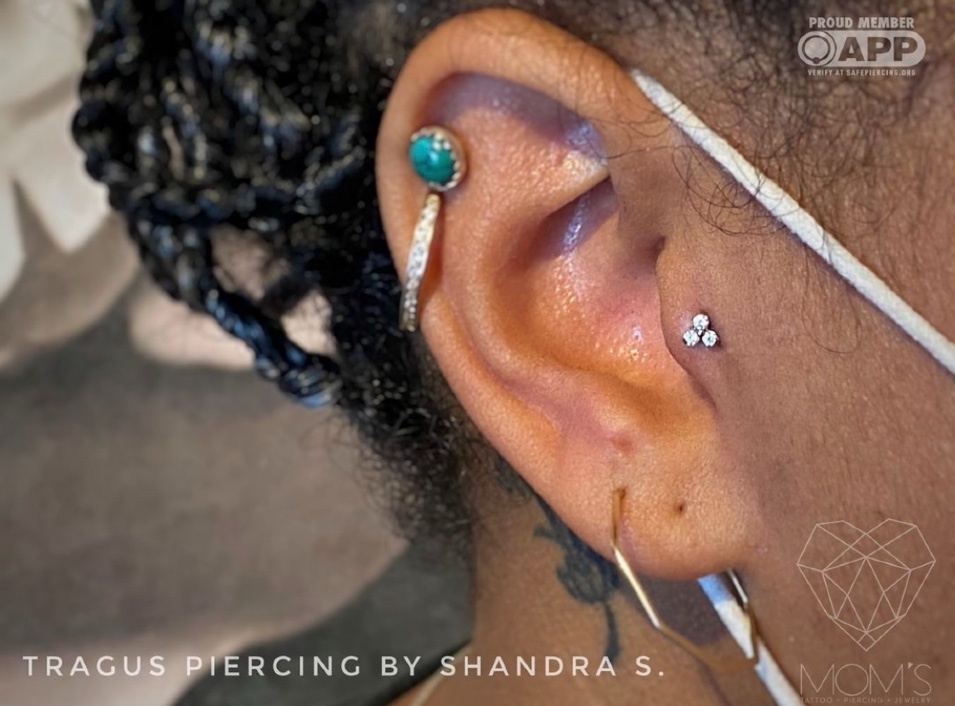 4. Conch Piercing
One piercing that's taking the accessory world by storm is the conch piercing. This is located in the center part of the ear and it is a very customizable piercing to get. You can either get an inner or an outer conch piercing, depending on how your ear is shaped. Since there's a lot of surface area here we can often play with multiple piercings. In addition, your Conch can also accommodate larger jewelry for those wanting more attention.
Conch Piercing Jewelry
The most popular types of jewelry for a conch piercing are studs, especially when healing. Once they have finished healing in about 6-9 months, hoops can then be added to the site. This absolutely stunning BVLA Rose Gold Sarai Pear with Smokey Quartz Accents in the photo by Shandra is one for the books! Try your hand at something fancy like Junipurr's Rose Gold Moon or Quetzalli's 3 Line Yellow Gold Black Spinel + Genuine Diamond Threadless Ends.
5. Daith Piercing
An incredibly popular piercing, Daith's have risen interest in those who suffer from migraines. Although we are not doctors or acupuncturists, there is something to be said about an individual's belief in what can be healing for their body ailments. We cannot promise a specific outcome for your headaches. But we can provide you with a gorgeous addition to the look of your ear.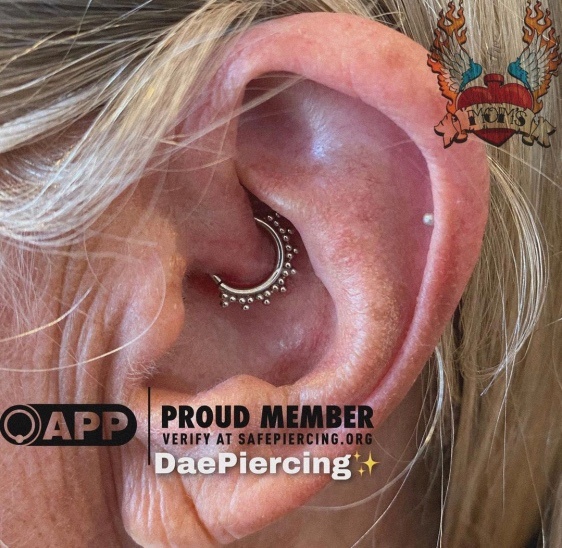 Daith Jewelry
Traditionally done at a 16 gauge, Daith Jewelry needs to be healed with a larger diameter ring. We normally start with a Fixed Bead Ring to avoid the bead coming off your fresh piercing with say, a Captive Bead Ring, although either can be used. We avoid using Seam Rings for initial piercings as not to partially close the channel if the seam's opening accidentally glides inside the healing piercing. However, Seam Rings can be worn in healed Daith Piercings when they are ready to be downsized four to six months after the channel has initially healed. Check out our White Gold, Yellow Gold, and Rose Gold Fixed Bead Ring Styles for initial styles. In this photo our very healed client sports her new White Gold Talia by LeRoi, which is honestly a client favorite of ours!
Fun Ear Piercings and Jewelry
Ears adorned in piercings are in right now. No matter who you are, you have a variety of different ear piercings to choose from that are sure to give you a unique flare. There's something special about being able to curate a look using a part of your body that often goes unnoticed.
Just look at this mask-jewelry coordination with some classic NeoMetal Titanium Prongs in Champagne!
Whether you're ready to browse for your Titanium or Gold Jewelry or looking to get a new type of piercing, it's time to set up that appointment! You will love your fresh new look.
If you're looking for some beautiful jewelry to go with your new piercing, check out our products!
As always, if you need help with picking our items or have any questions you can always reach out to us by calling (509)426-4465.
With Love,
Mom's