Posted on
By Zach Westbrook & Fe(lix) Wild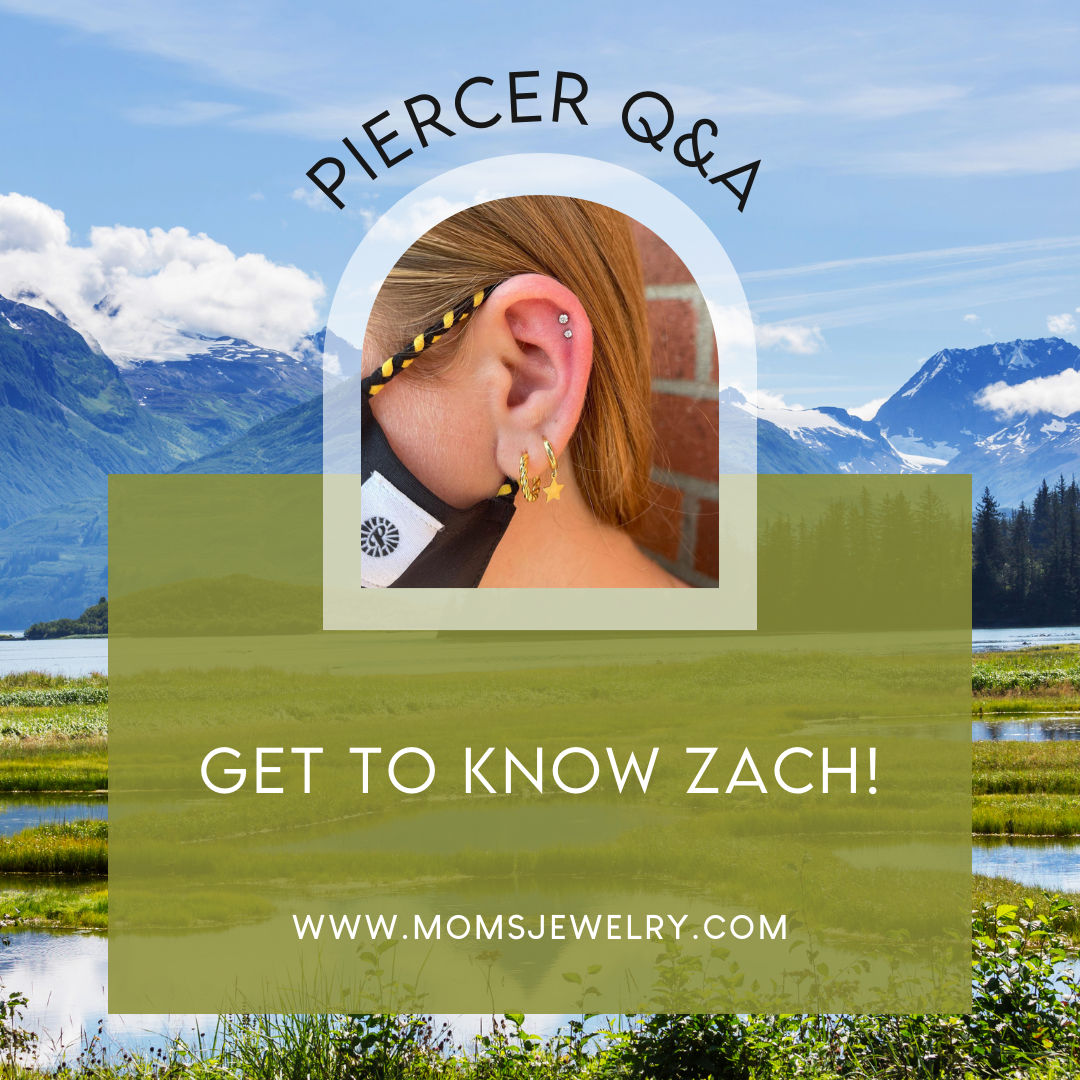 We interviewed Zach Westbrook, piercer at Mom's Custom Tattoo & Body Piercing in Spokane, Washington. Just having celebrated his one-year anniversary with us in August we wanted to ask him about his favorite aspects of the industry.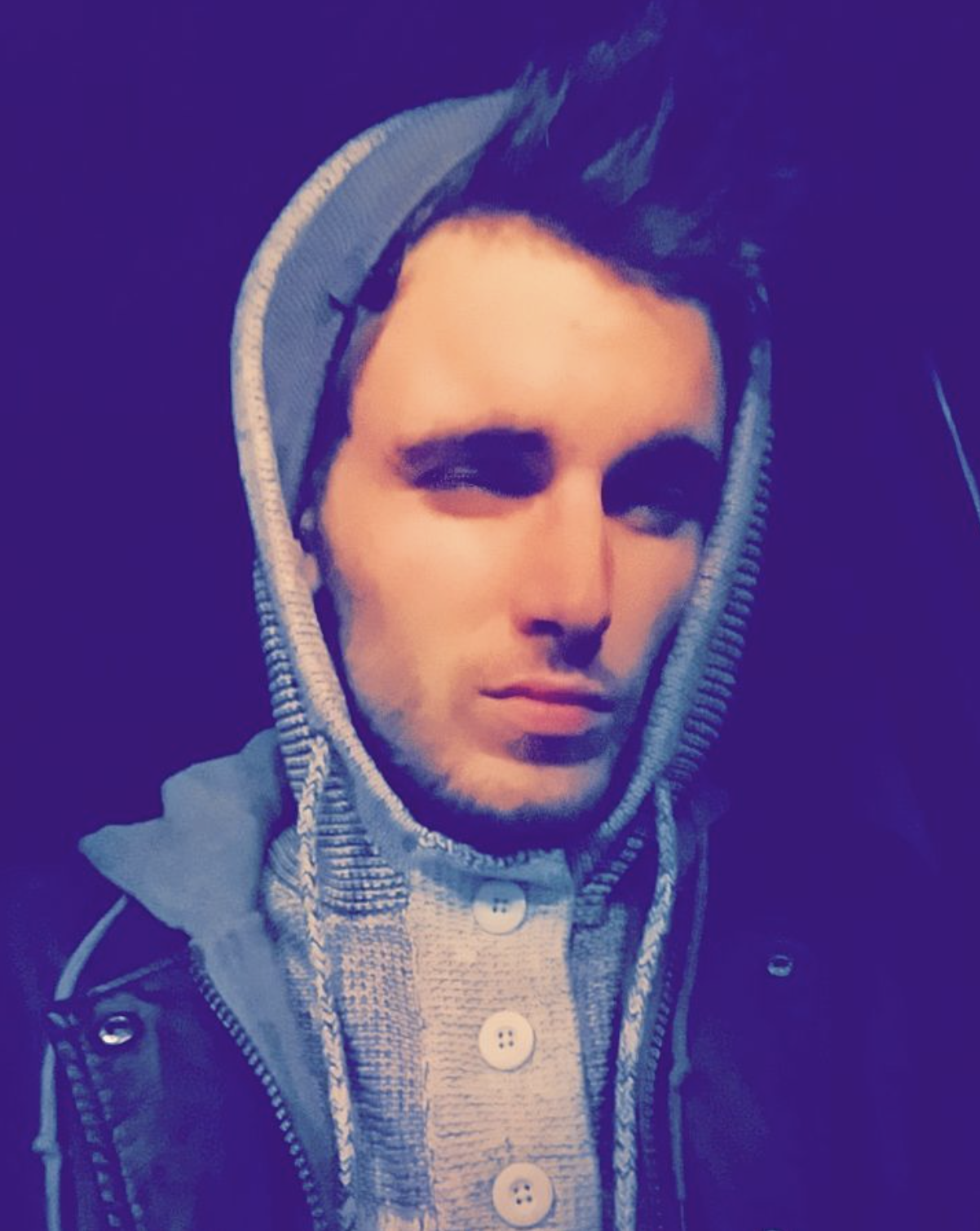 Zach Westbrook
Hi Zach! We're curious. What do you do at Mom's? 
I am one of three professional body piercers at Mom's! Most of my clients already know what piercing they want, so I'll help them select jewelry that fits appropriately from Mom's Jewelry collection, and finally pierce them! I also offer curation consultations for those clients who don't quite know what they want to have done, but have ambitions to get a few piercings with the goal of a certain look. 
When did you first become interested in piercing?
I remember having a fascination with piercings at an early age. I would spend time on MySpace as a kid and I would see these scene kids with lip piercings and septum piercings and I thought it was so cool. I grew up in a somewhat religious environment, so piercings and tattoos were frowned upon, and I think that pushed me into wanting them even more. I had to wait until I was 18 to finally get my ears pierced, but I knew by then I wanted to stretch my ear lobes and get many more piercings. It became a form of self-expression that I found I was lacking as a kid. I also find something extremely cathartic about the process of overcoming the initial pain, learning to care for and heal this new addition to your body, and finally having a healed new piercing to be proud of.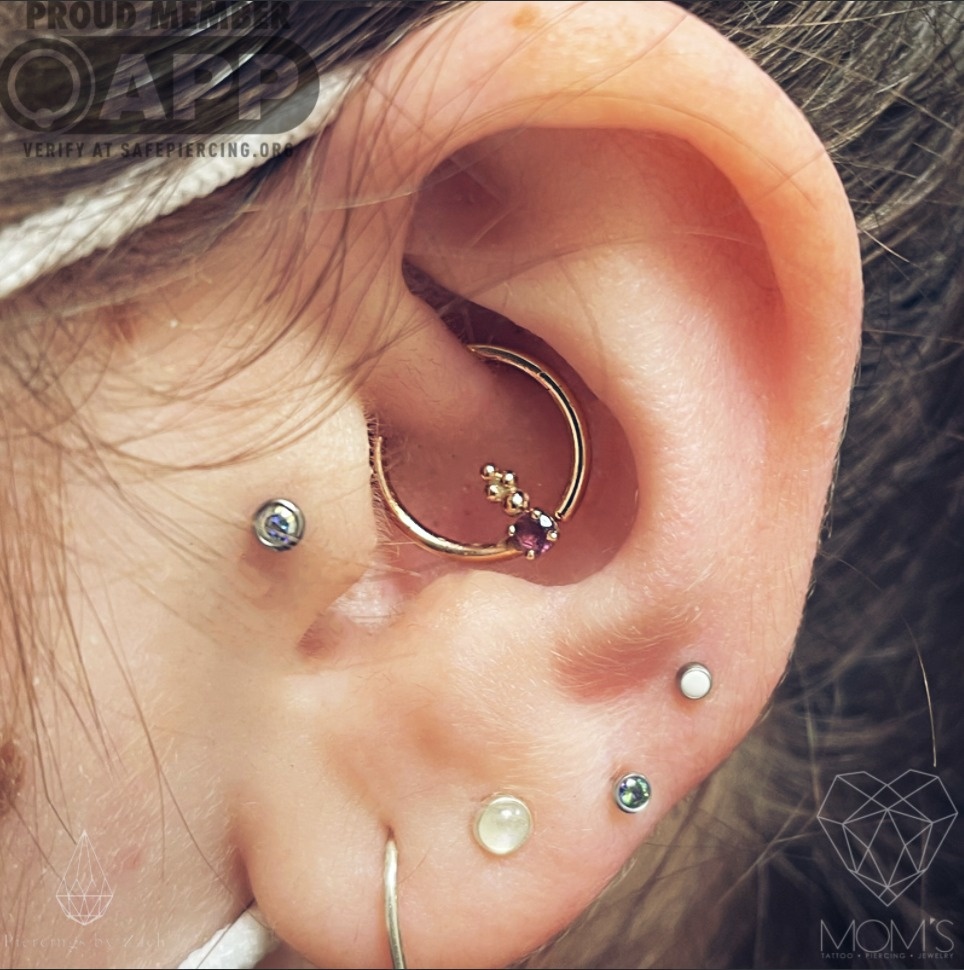 Daith Piercing by Zach
How did you become a body piercer?
I never really thought that being a body piercer would be something I would do. I had daydreamed about it a time or two as a kid, but it seemed like this weird mystical profession that you had to be cool to get into. I pretty much dismissed it, and while I still enjoyed piercings and tattoos, I focused on trying to find a career elsewhere. 
At some point in 2014/15 my brother had started a tattoo apprenticeship at a studio and told me they were looking for a piercing apprentice. I went to the studio and annoyed the piercer into agreeing to teach me. I started my first attempt at an apprenticeship in 2015. I was working a full-time job as a bartender in Fairbanks, Alaska, and only had time to be at the studio about two days a week. After a couple weeks of that, I realized it wasn't going to work out and I would need more time, but I couldn't afford to quit my job, so I ended my apprenticeship. 
About a year later, I had been laid off due to the bar I worked for foreclosing, and I started my apprenticeship again. This time I was able to put in 40-50 hours a week at the studio, and I finished my apprenticeship 9 months later.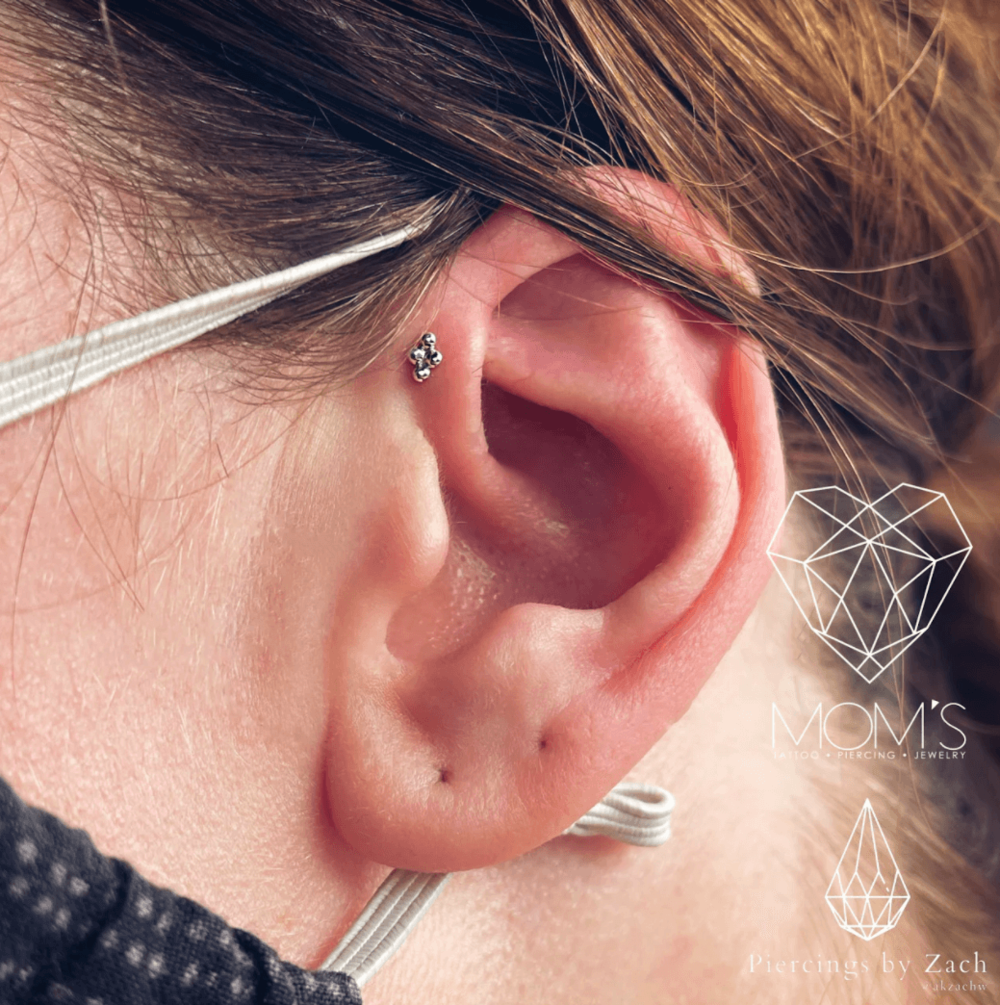 Forward Helix By Zach
Do you ever miss Alaska?
If I'm being honest, no. As I got older, the winters felt harder. They are cold, dark, and unforgiving. And they feel like they last 9 months out of the year. While the summer weather is much nicer, the mosquitos are awful, and the smoke from wildfires has been getting progressively worse in the last few years. 
My partner, Sarah, and I tell each other almost daily how grateful we are to not be in Alaska anymore. There are definitely beautiful parts of Alaska, but as the biggest state in the US, those beautiful parts are usually hundreds of miles away from where we were. I find myself to be much happier here. 
What are your top three favorite things about working in The Industry? 
There are so many things I love about this industry, it would be so difficult to narrow it down to a definitely top three. 
One of the biggest things I enjoy is the freedom of being yourself. Body piercing is such an individual experience, and it shows in the studio. Self-expression is encouraged, and in my experience, that's extremely rare in the workforce. 
Second, it's always keeping you on your toes. Like any job, there are monotonous moments of repetition, but as a piercer, there's always something new. Whether it's unique or challenging anatomy, or new jewelry, or even just conversation with clients, I feel like I get to learn something new every day. 
Lastly, I think the best thing about working in this industry is being able to help people find beauty in themselves. Sometimes adding a sparkle or cool design to the body helps inspire confidence or makes people feel more comfortable in their body, and getting to be a part of that is indescribable.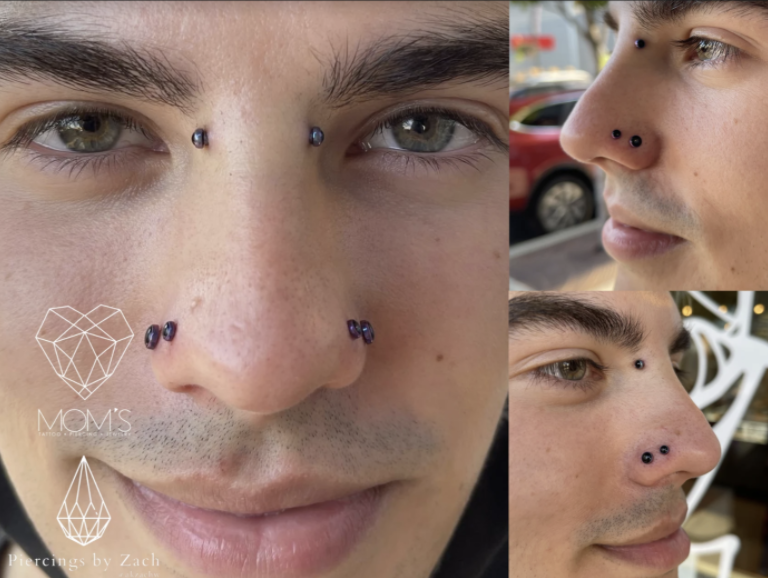 \
Check out this collaboration!
Double Nostril Piercings by Zach | Bridge by Dae
When did you become an APP Member? Tell us more about what becoming an APP Member has meant to you. 
I just recently became an APP member. It's been something I've wanted to do for a few years now. At my last studio, while we weren't APP Members, I was using many APP resources to keep our practices up-to-date and ensure I was offering my clients the best piercings I could. It was my plan to make that studio APP ready, but unfortunately, I wasn't able to accomplish that during my time there. It feels great to finally be able to say I hold myself to the highest standards of the body piercing industry now that I've joined the team at Moms.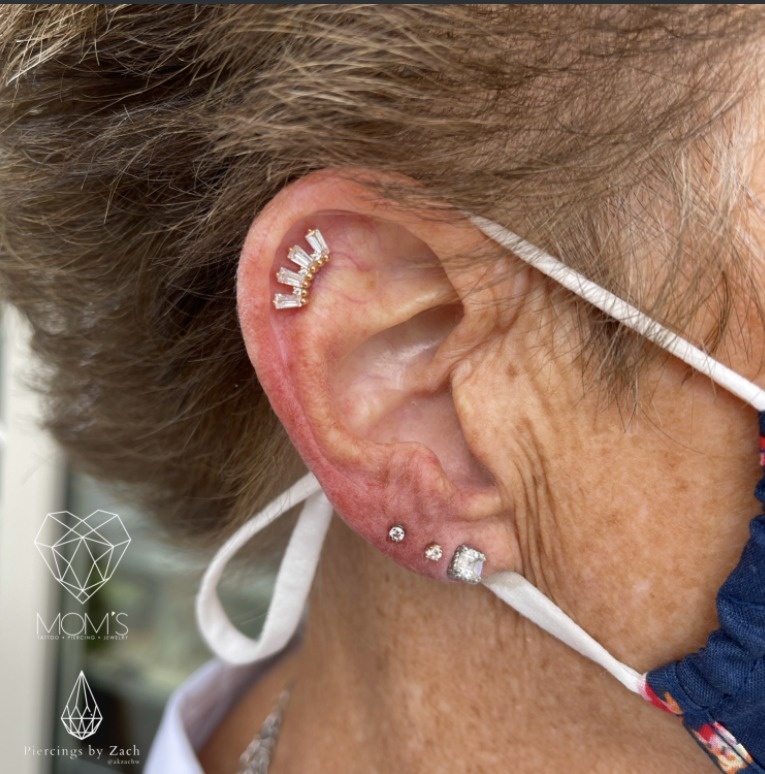 3 Lobes & Single Helix Piercings
Which piercings are your favorite to perform?
I'm pretty sure I get asked this question every day, and I still don't have a good answer. 
I think navel piercings are one of my favorites. It was the first piercing I performed on another person as an apprentice, and I still find them challenging in the best way. The satisfaction of performing a perfect navel piercing still makes me feel like it did years ago. 
I also really enjoy conch piercings. They're deceptively simple, yet you can fit a huge variety of jewelry in them. They're the centerpiece of the ear.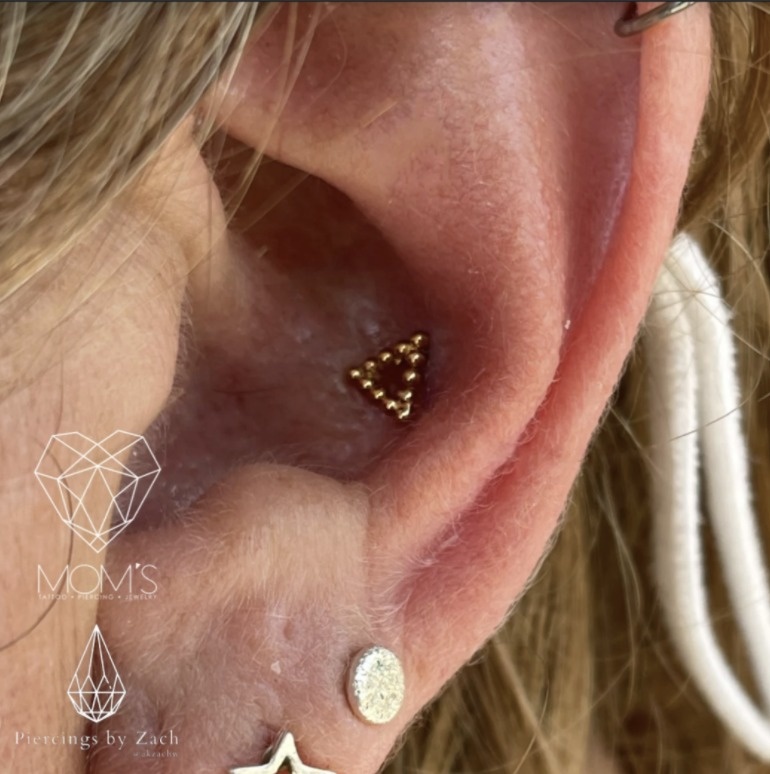 Conch by Zach
Tell us more about your favorite jewelry styles! Which pieces are your favorite?  
I'm a sucker for anything yellow gold. 
There are so many different design options in gold, from ornate pieces to animal or floral designs. Just endless possibilities. I think BVLA daggers are one of my favorites. It really shows the detail you can get into such a small piece, and they have gotten creative with rhodium plating to add even more color varieties.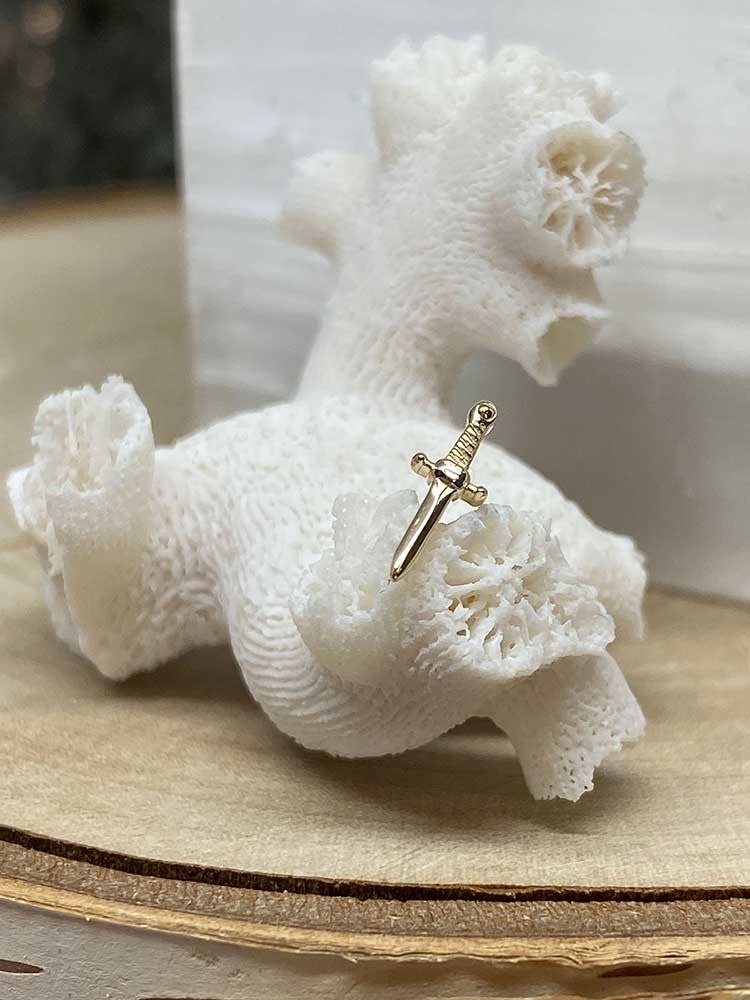 See these styles and more at momsjewelry.com
Which piercings are the most popular amongst your clients? 
Nostrils, without a doubt. I can confidently say that I've pierced at least twice as many nostrils than any other piercing in my career. They're an excellent look on anyone, and with different jewelry options available, it's no wonder they're so popular. I love piercing nostrils, so it doesn't bother me a bit. 
Helix piercings are probably the second most popular piercing I perform, followed by lobes.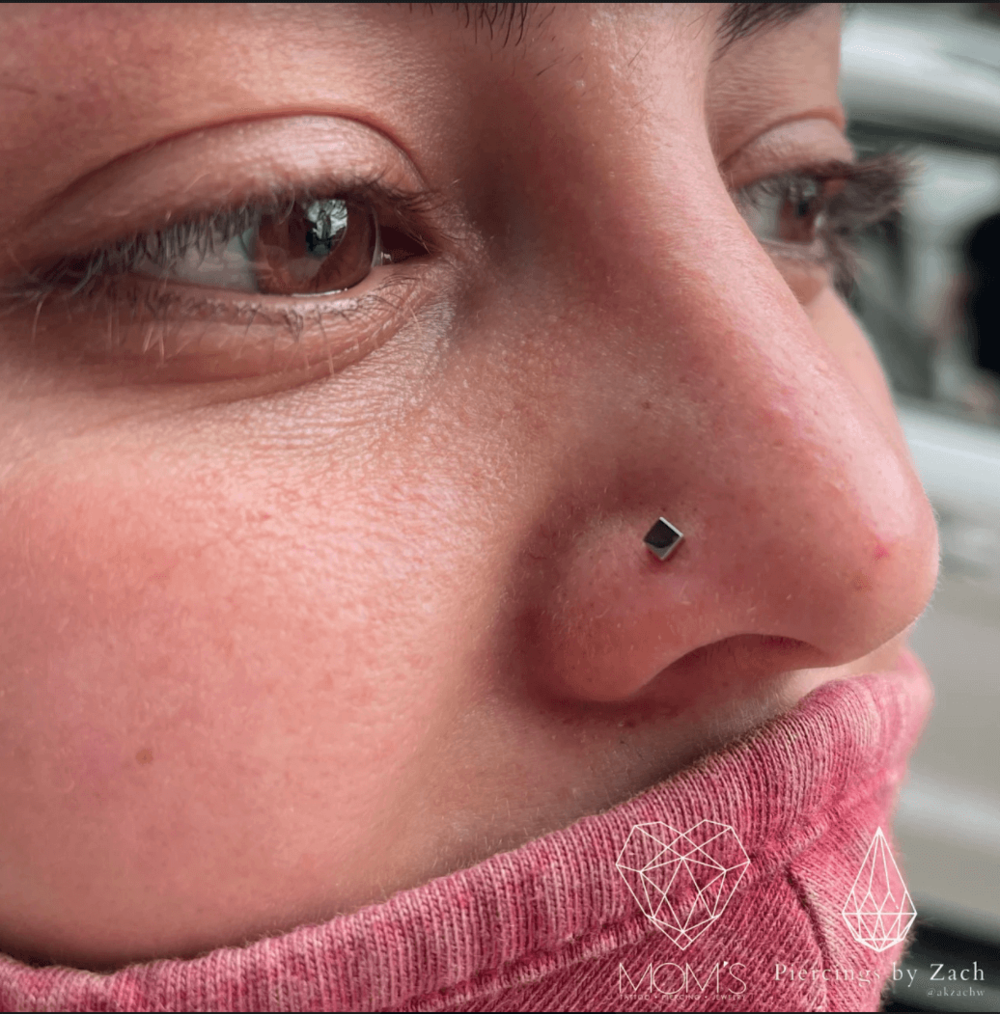 Nostril Piercing by Zach
What advice would you give to someone deciding between two piercings? 
When in doubt, get them both! ;)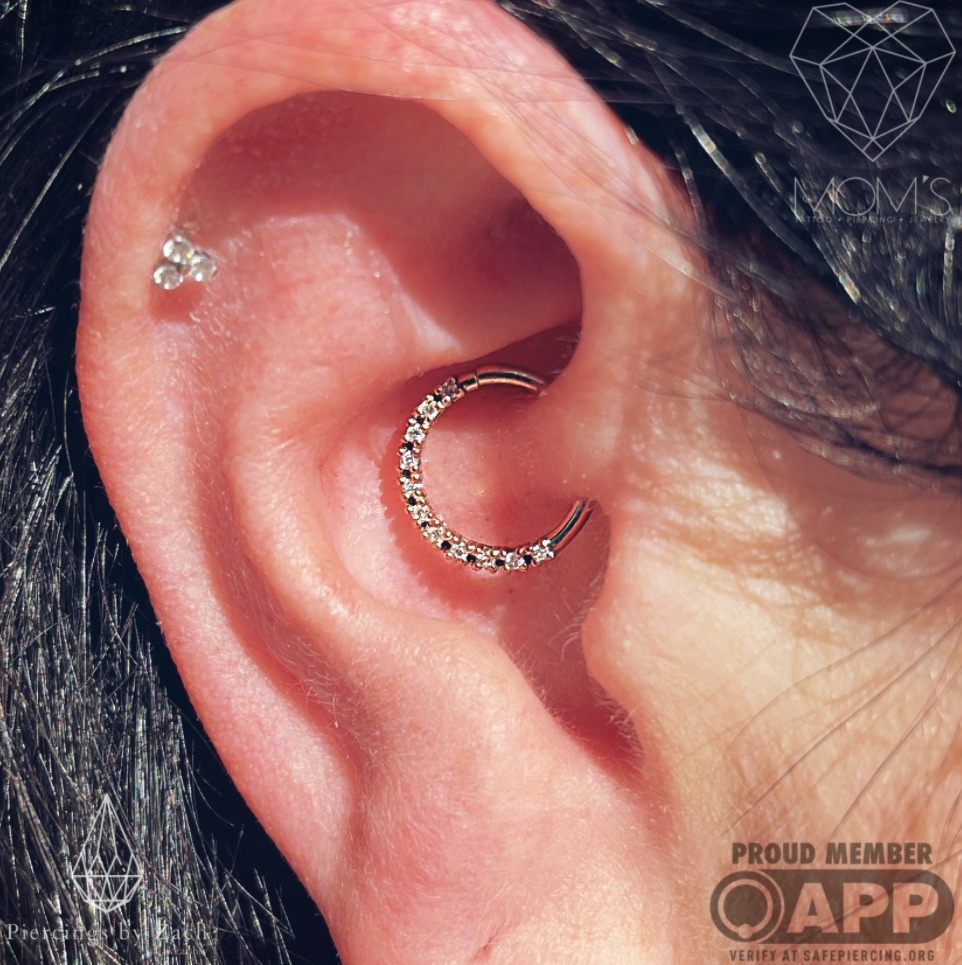 Helix and Daith Piercing by Zach
In reality, I like to start out practical. Consider the healing process and your daily routine. Is anything going to get in the way of either piercing? Headphones, hats, glasses? A lot of times we can find which piercing will be best for you based on these things. As always, checking with a piercer to make sure your anatomy suits both piercings is a good idea too. It's easy to narrow down the choices when one is not suited to your anatomy. 
If you're still having trouble deciding, we can look at the jewelry options. You might find a piece you fall in love with, and that piece may fit best in one piercing rather than another. 
Ask your piercer's opinion! We love to feel involved in more than just poking holes. We can let you know what we think would look great, and that might help you make a decision. 
Where can people find you on social media?
Book w/ Zach: Zach's Schedule
IG: @akzachw
Shop TikTok: momsofspokane
Questions on any of the services we talked about today or others?
Studio Site: momstattoo.com
Jewelry Site: momsjewelry.com
Email Us: [email protected]
Call Us: (509)426-4465
Love Always, 
Mom's