Posted on
By Fe(lix) Wild
Learn the difference between Threadless Jewelry and Threaded Jewelry. | Find out what top leading Professional APP Members have to say about quality, style, and jewelry from first-hand experience. |
What is Threadless Jewelry exactly and how does it differ from Threaded Jewelry? How does this jewelry work? Isn't all body jewelry the same?
We are so glad you asked! And, no, not all jewelry is the same; we think a little education on this can go a long way.
You don't necessarily need to know how to choose between Threadless or Internally Threaded jewelry when getting a piercing; our experienced staff can work with you to find the best fit for your piercing and your lifestyle. But when shopping online, these terms may be confusing and prompt the question, what is the difference?
Threadless Jewelry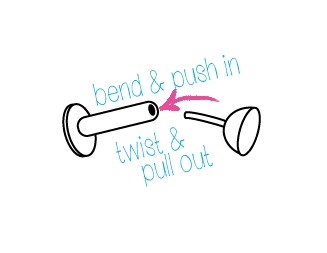 Threadless Jewelry is a style that includes two to three-piece, including a Flatback Post or Central Post. They either carry a Plain, Gemmed, or Cabochon End that highlights the piercing itself.
A Threadless End presses into a tapped-out hole inside the post that's held by a bent pin to create tension. They fit in together perfectly, preventing build-up between the piercing and your body.
Threadless Jewelry can accommodate most piercings and is not limited to ear work, nostrils, eyebrows (yes they come in curved styles too), and Nipple Piercings.
Threaded Jewelry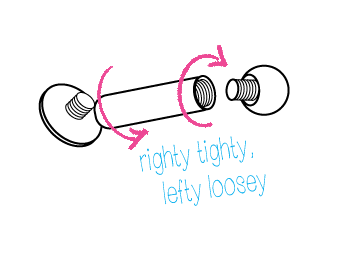 Threaded Jewelry comes in two to three pieces. Each of these pieces turn clockwise to tighten and counter-clockwise to loosen and uninstall.
All of our posts are what's known as internally threaded. This is where the Threaded End holds the thread pattern which fits into the post. This allows the wearing surface to be very smooth and makes installment pain-free and simple.
All posts we carry are comprised of biocompatible materials, making our jewelry a sustainable long-term choice for everyday wear.
How to Take Your Jewelry On & Off
Threadless Jewelry
For Threadless Jewelry, you'll need to install the Flatback Post first. Make sure the Flatback end, the part with the attached disk, enters the channel from behind the piercing.
Once the post is through the channel your Threadless Top can be secured by inserting the bent pin into the hollowed portion of the post.
Make sure to press both sides of the jewelry in together, leaving no gap between the post and top.
To uninstall, simply pull these pieces in opposite directions to change your top or retire the piercing.
For our visual learners, check out our Threadless Tutorial Video to see how it works.
Threaded Jewelry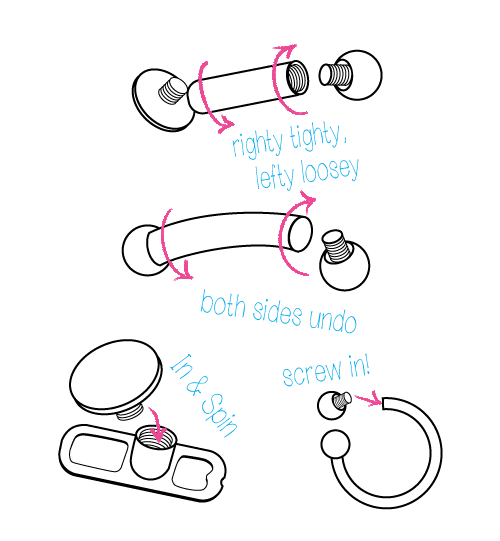 For Threaded Jewelry install by inserting the Threaded Post through the channel of the piercing.
Once the post has made it all the way through, take your Threaded Top with a forefinger and thumb, and begin to thread the opposite end of your post. Remember righty tighty lefty loosey to adjust the threaded ends taught or free.
If your jewelry is not freely rotating, the threads may not be aligned. Simply unscrew the piece and begin again making sure both parts are lined up.
NOTE: Never force Gold thread patterns as this can misalign the thread patterns track.
How it's made makes a difference
As leaders in the body modification industry, we feel a connection to all of our client's best interests. We pride ourselves in carrying top of the line manufacturers that only use safe materials which last a lifetime.
There are so many reasons to switch to the companies we carry for your own health and safety.
When looking at cheaper, low quality jewelry under a microscope we see the tarnished, pitted, uneven, and often dangerous materials these pieces are comprised of.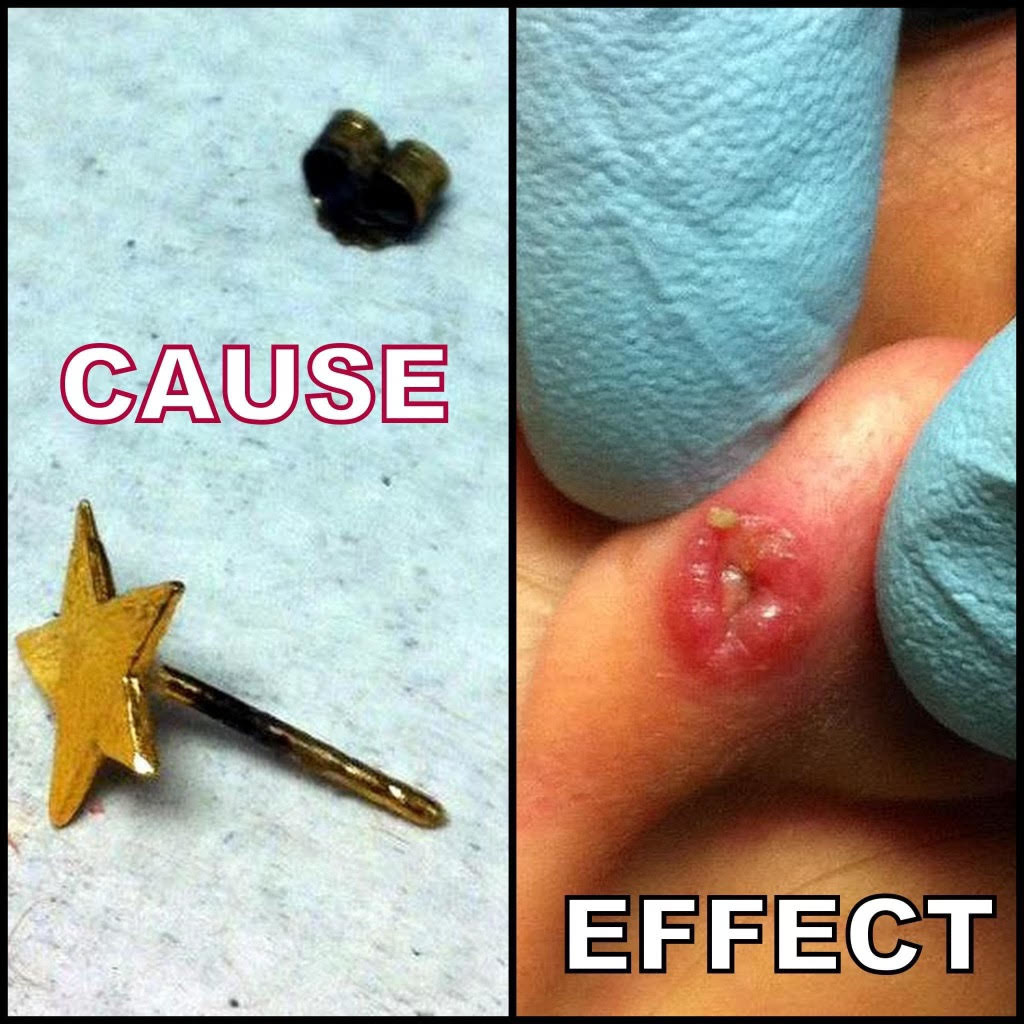 Also butterfly backs can trap crusties while our piercings are trying to heal and for years after. They only have one or two settings and can even contain a whole screw system the channel has to revisit every time jewelry is switched out. These styles are generally pierced using a gun which becomes contaminated over time and can never be fully sterilized.
This word of caution is equally true to the type of Threaded Jewelry Style you're wearing. While we carry Internally Threaded Jewelry, we never advise wearing Externally Threaded Jewelry where the thread pattern jets out from the post into the end.
The lower grade steel companies often manufacture externally threaded jewelry; this external threading style means having to go through the piercing channel with an exposed thread pattern every time jewelry is changed, (like a cheese grater) causing pain and other unwanted damage to the tissue.
Mom's Commitment
All of our jewelry is made of the highest quality sources in the Piercing Industry. We make sure all of our vendors carry materials with the highest standards, integrity, and craftsmanship.
Our Titanium Posts are all crafted to a mirror polished finish and are made of implant grade materials that are nickel free. This means those with allergies and/ or sensitivities to metals can adorn their body without adverse reactions.
We offer a wide variety of tops in both Gold and Titanium options. These range in size, style, character, and luxury. Never cutting corners or taking these measures for granted, we only carry the best options from quality jewelry vendors.
We love being able to offer safe piercings by our Association of Professional Piercer Members at Mom's Custom Tattoo & Body Piercing. We wear these quality brands and keep current with Body Modification Industry Standards.
You can shop for these styles of jewelry described in this Blog and more on our online store MomsJewelry.com.
As always, we love working with you.
You are our family and why we keep showing up.
Let our studio know if you need any assistance.
(509) 426-4465
Love Always,
Mom's