With a keen eye on quality and design let our staff let you in on our faves!
Mom's Favorite Jewelry
Since we have so much great jewelry to choose from here at Mom's, we thought it would be nice to share our favorites! So, please enjoy our Staff's Favorite Picks!
Follow us on social media on Instagram and Facebook to hear more. 
These Are a Few of Our Favorite Things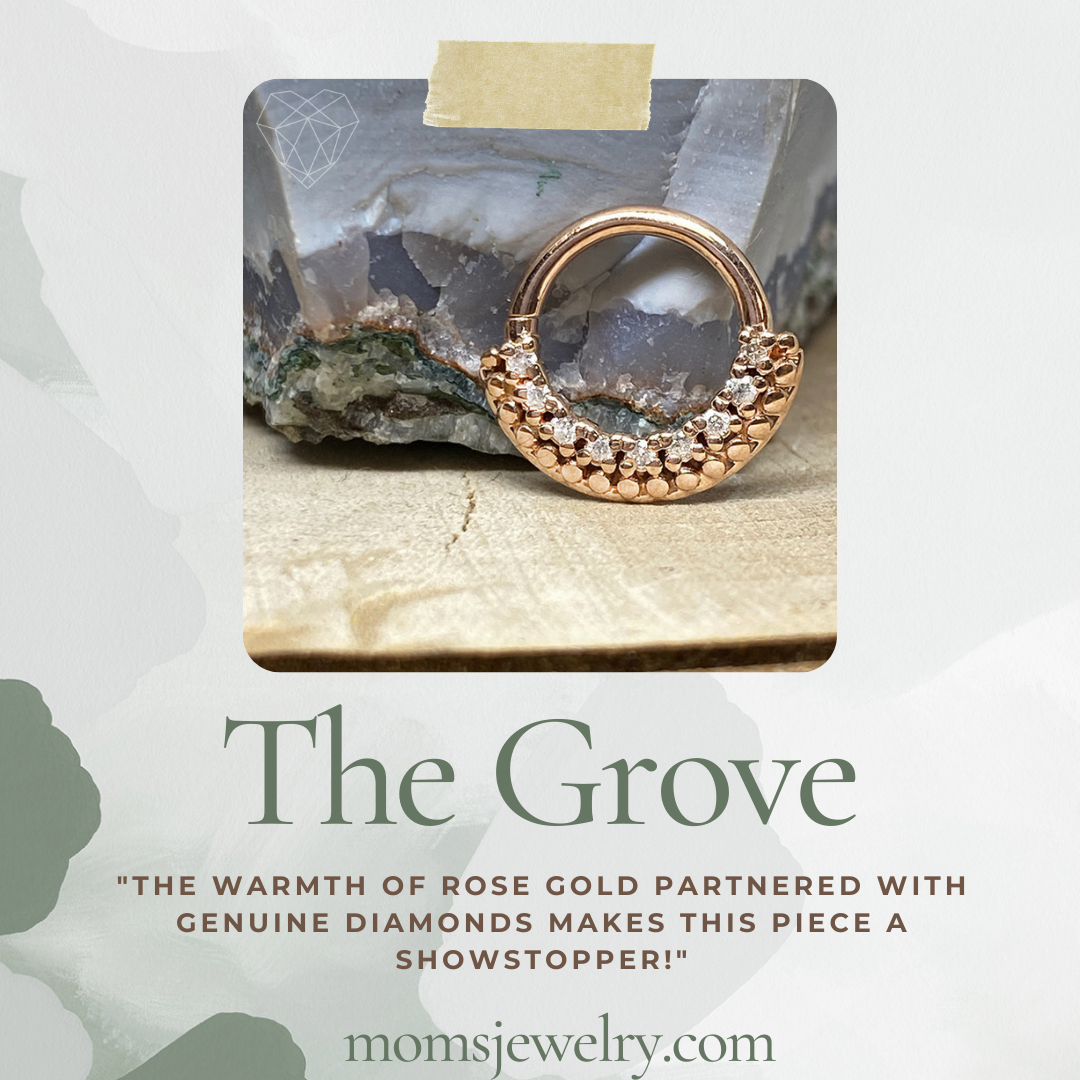 "The warmth of Rose Gold partnered with Genuine Diamonds makes this piece a show stopper" - Alexa 
Our Studio Manager Alexa knows her Rose Gold. From her warm personality to most of her wardrobe, Alexa's rose gold numbers are one in a million. Tawapa's The Grove Seam Ring is an absolute must for those who seek a bright and shiny future. Trust Alexa's guidance and impeccable taste in the finer things in life. With her recent graduation from EWU (we are so proud) she now has a lot more time to shine around the studio and bring warmth to light.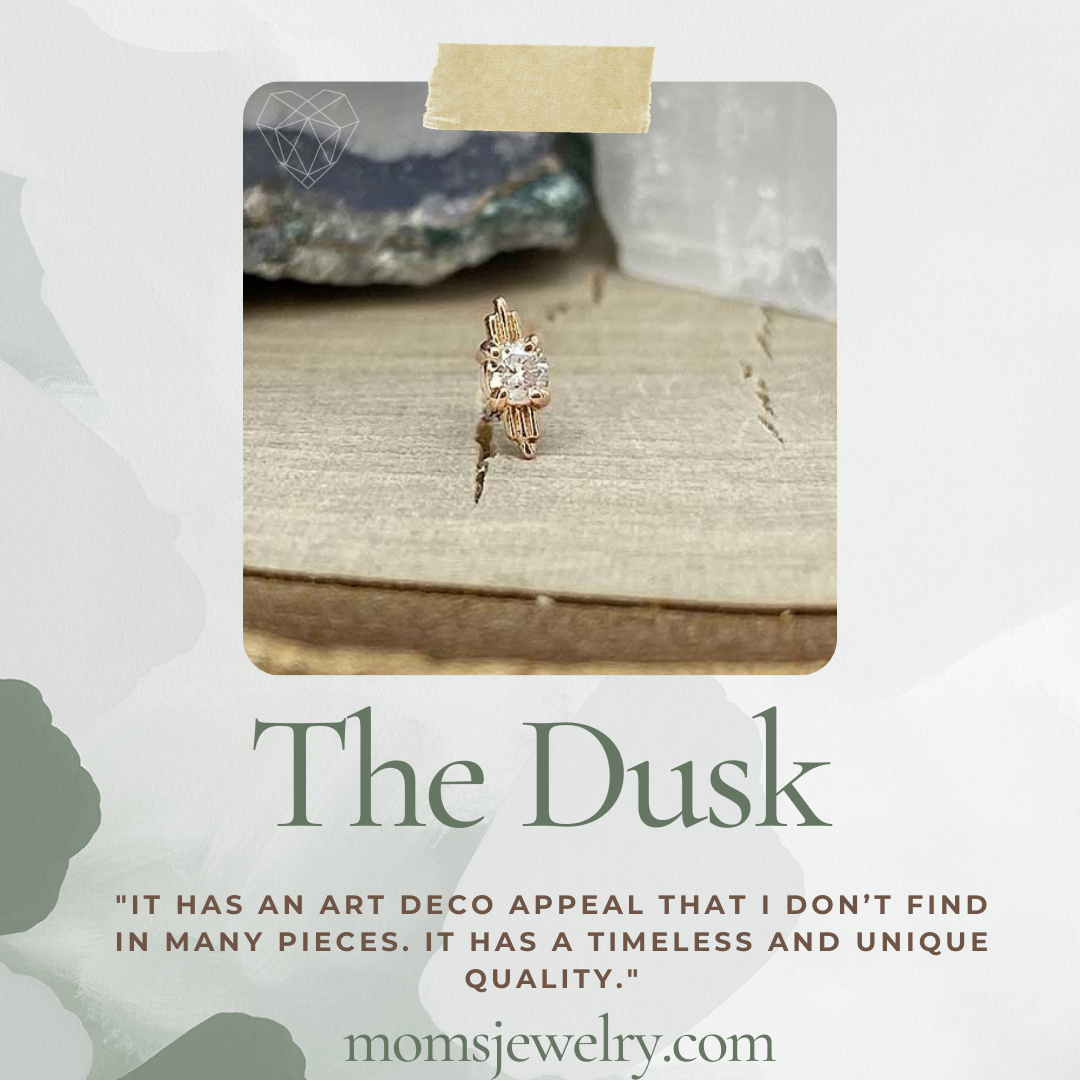 "It has an art deco appeal that I don't find in many pieces. It has a timeless and unique quality." - Katie
Leave it to our most seasoned Counter Intelligence Staff Member Katie to find the most artistic piece amongst the cases. Katie shares a love of gold embellishments with those who like a more classic gold look. Her eye for detail and high fashion doesn't go unnoticed. She probably has the neatest collection of shoes we've ever known. Tawapa's Dusk threadless end is her favorite for the simple fact that it's literally one of the best, just like her!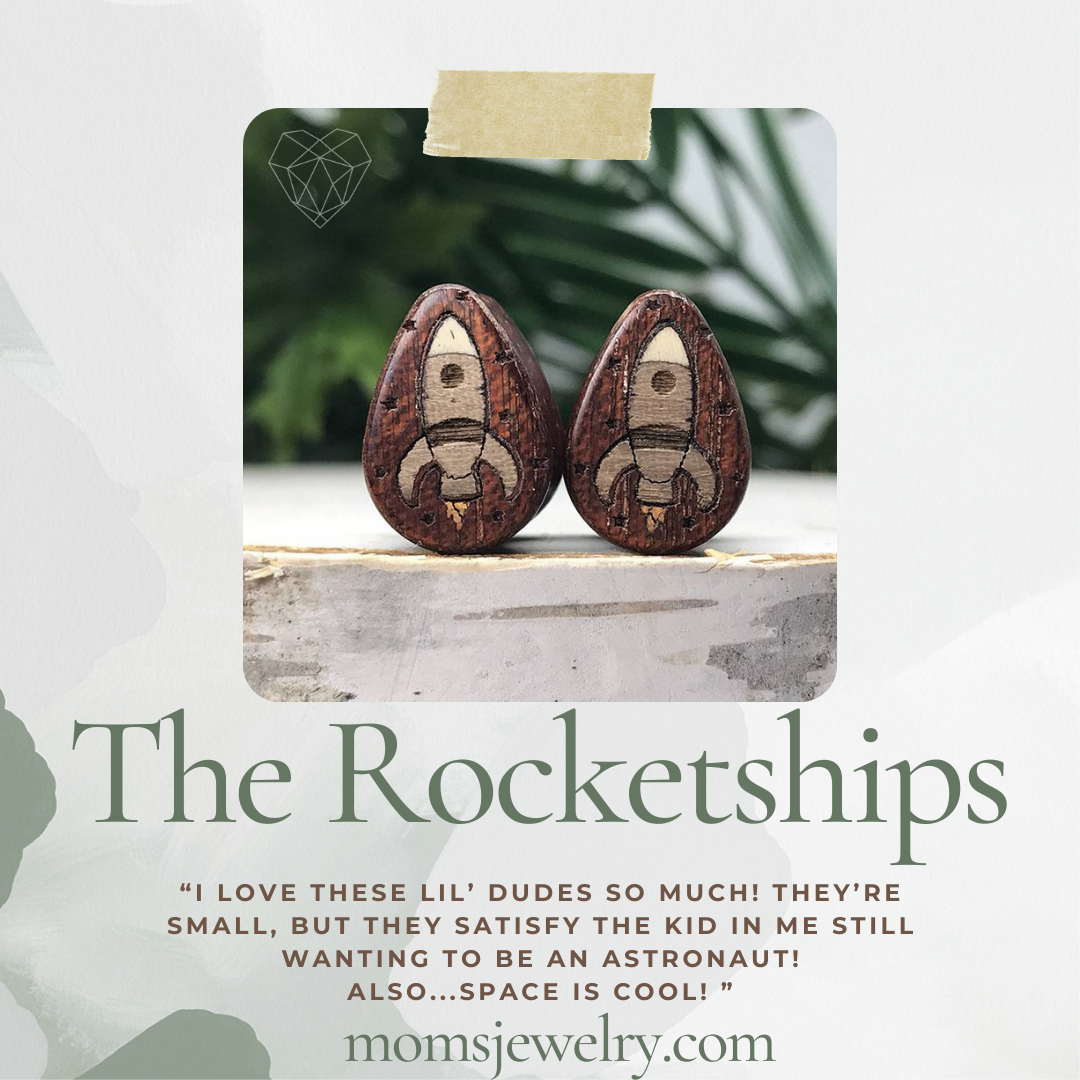 "I love these lil' dudes so much! They're small, but they satisfy the kid in me still." - Brendon 
Slowly stretching his own ears, Brendon has taken a liking to our amazing plug and eyelet section. Oracle is amongst our favorites for stretched (informally referred to as "gauged") ears. He always has his eye on The Rocketships that sit at a 7/16". Who could blame him? This perfectly machined laser engraving with multicolor tones are both subtle and just enough. Honestly, we think Brandon is out of this world, managing to take on two jobs and a tattoo apprenticeship with our studio's owner Beth Swilling.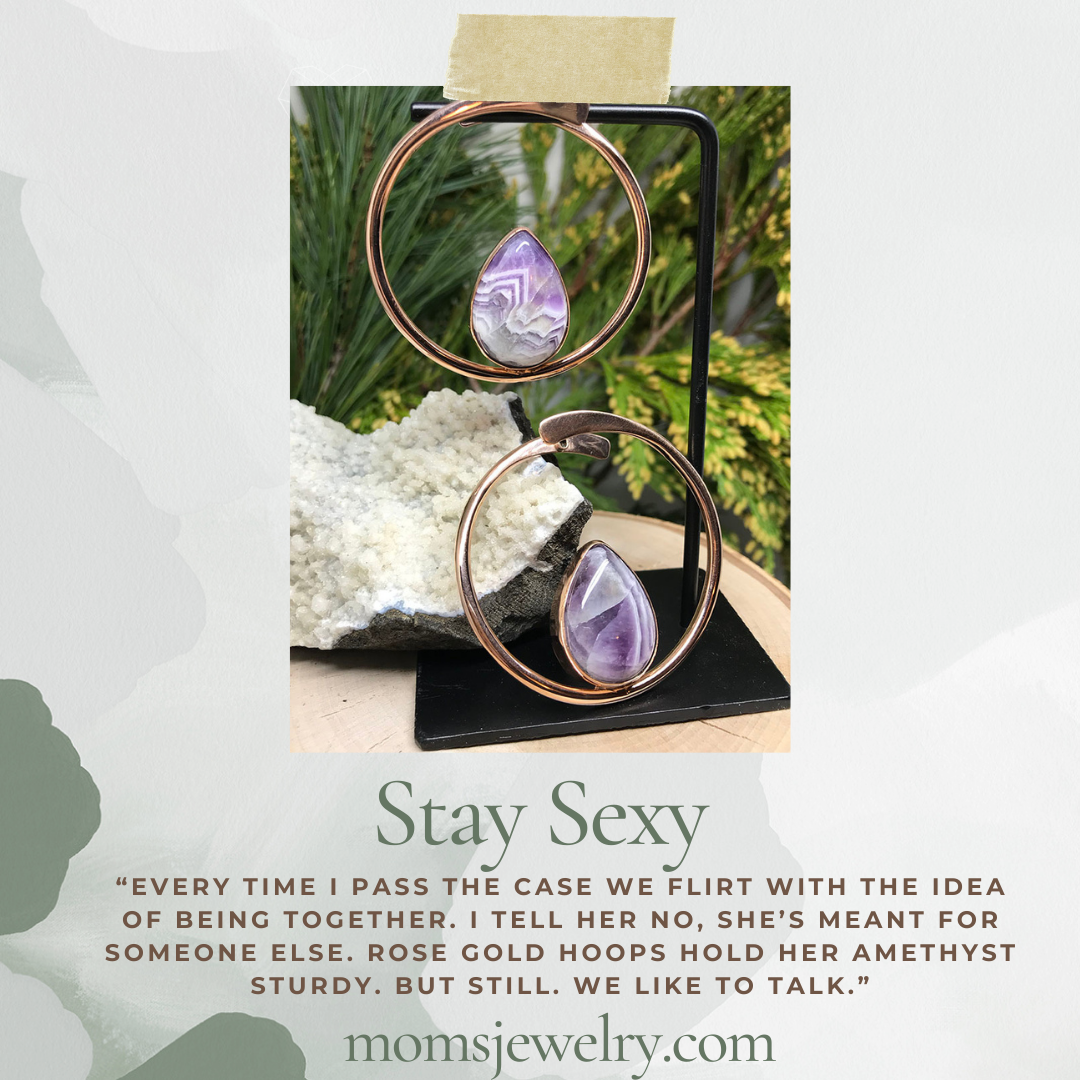 "Every time I walk past the case we flirt with the idea of being together. I tell her no, she's meant for someone else. Rose Gold hoops hold her amethyst sturdy. But still. We like to talk." - Fe(lix) 
I might be the most biased here since I write these blogs. But, I am so in love with these earrings. With every stone piece a client takes home, a unique pair of talismans enters their lives. Sometimes we find jewelry that we are attracted to but do not understand the magnitude as to why. These BJO Stay Sexy in Rose Gold and Amethyst do just that. It might be my love of stones, or my over a decade's knowledge in The Piercing Industry, but I cannot help but talk to all the jewelry that wants to sing to me.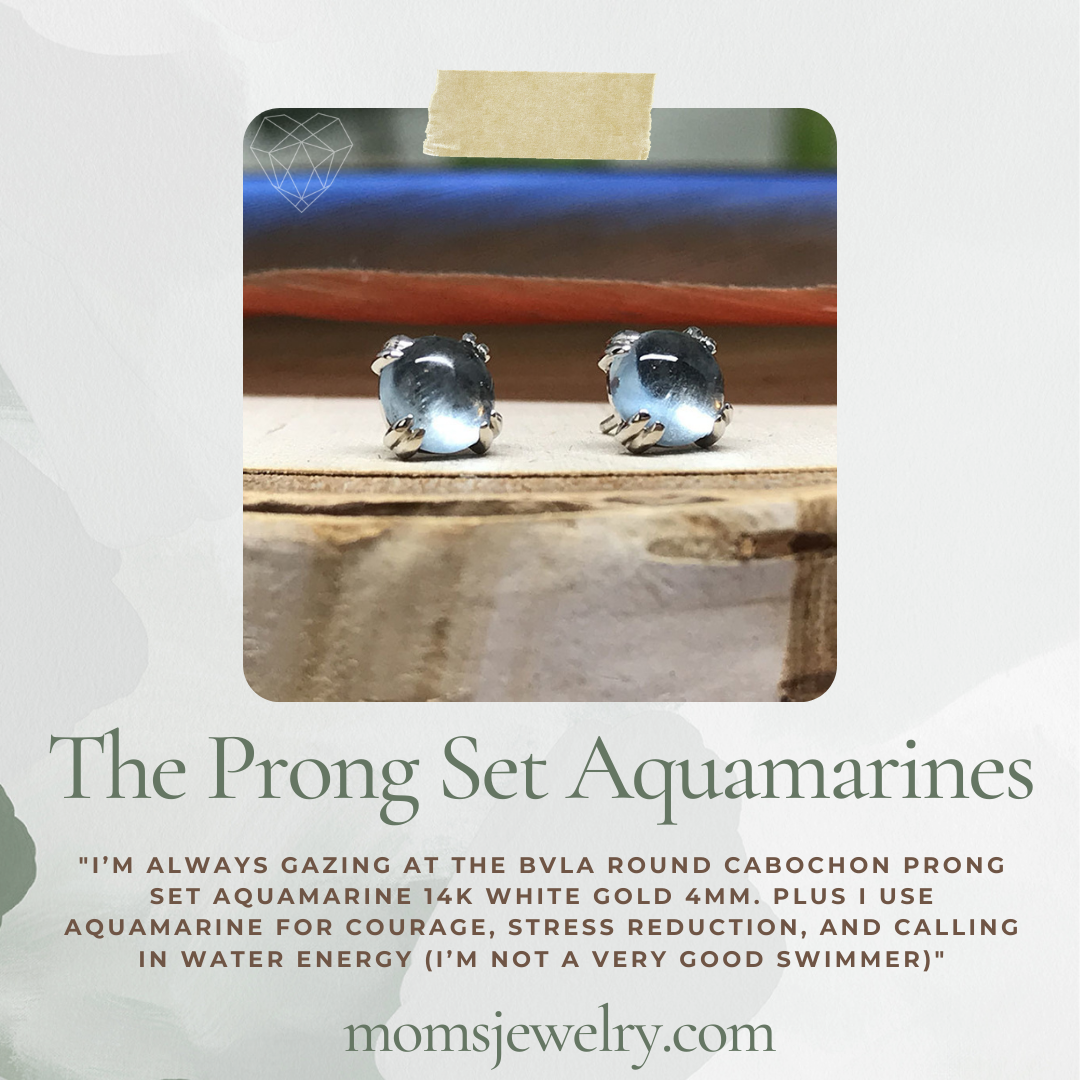 "I'm always gazing at the BVLA Round Cabochon Prong Set Aquamarine 14k White Gold 4mm. Plus I use aquamarine for courage, stress reduction, and calling in water (I'm not a good swimmer)." - Dae 
What Dae may lack in aquatic skills, he makes up for with a discerning eye to piercing. As a long standing piercer and APP Member he is no stranger to the ways of curation. We agree that these stones are beautiful as they are calming. Their bubble like playfulness adds full charm that reminds us oh so much of Dae. 
You can schedule a piercing with Dae Wednesday, Thursday, Saturday, and Sunday. Maybe even get the BVLA Round Cabochon Prong Set Aquamarine 14k White Gold 4mm installed while you're at it!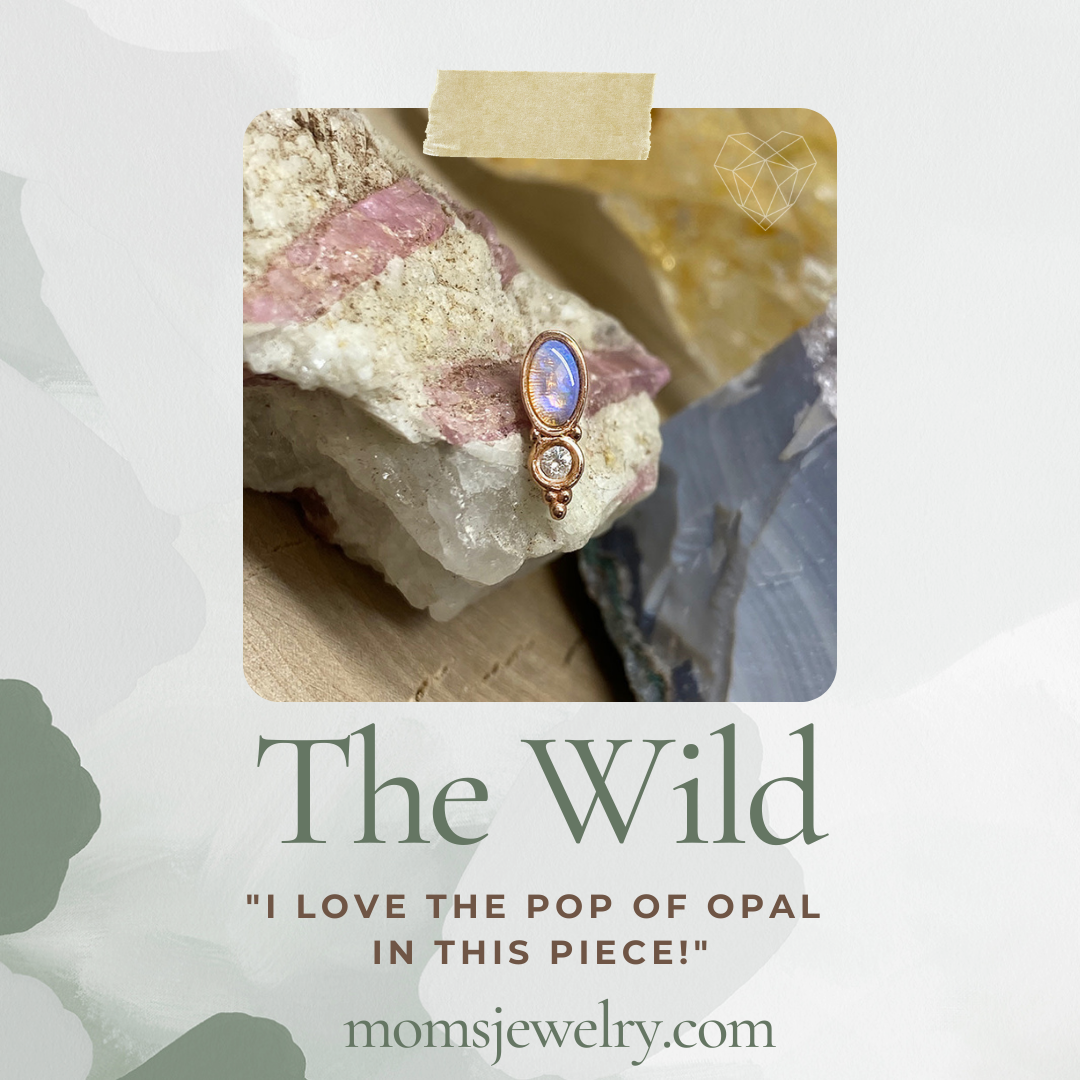 "I love the pop of opal in this piece." - Shandra
Saving the best for last, and twice as nice as the rest, Shandra moves us with two faves. Tawapa's Wild in Rose Gold just really does it for us. With an open back that lets all the light in this piece is sure to be as bright and shiny herself.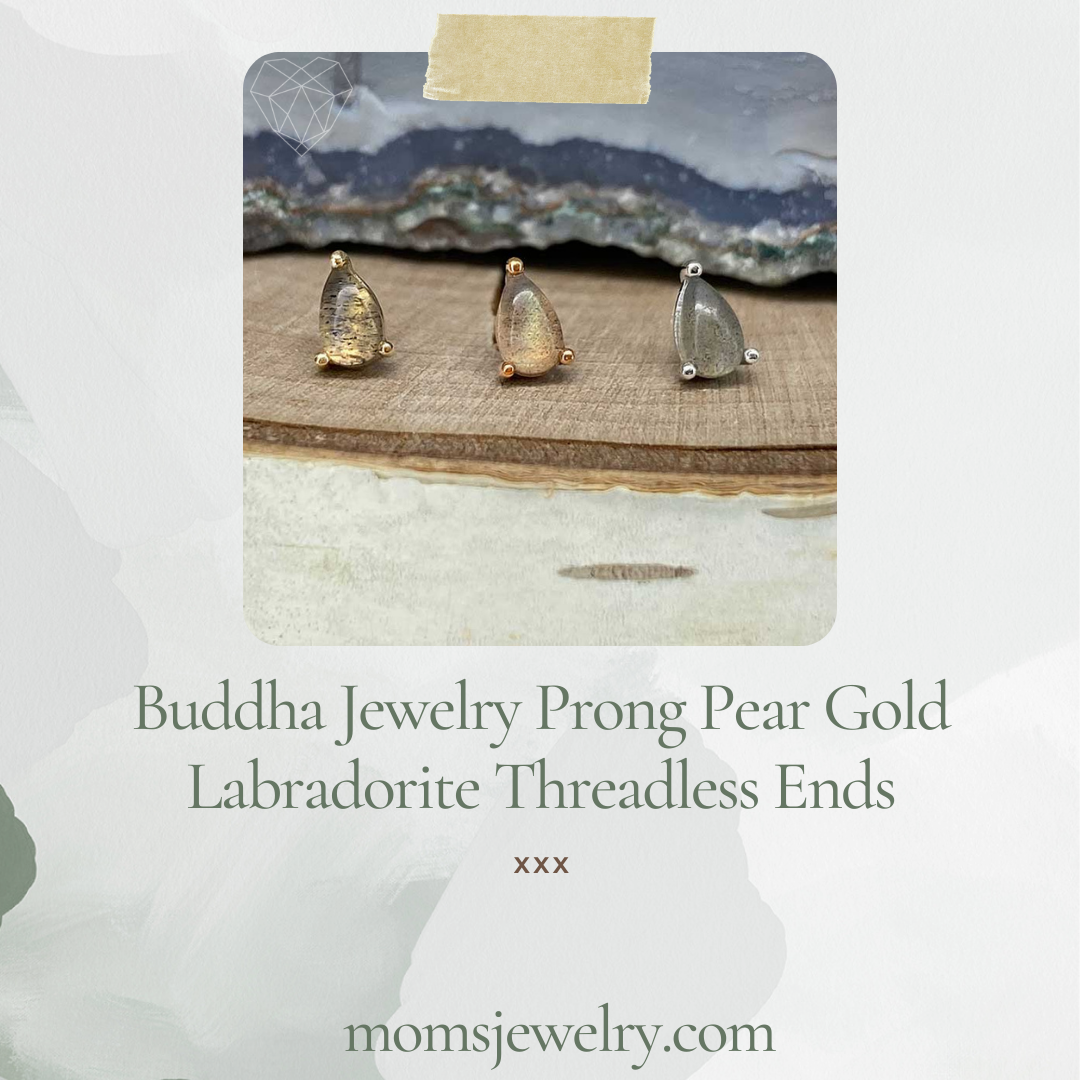 She's also a fan of Buddha Jewelry Organic's Prong Pear in Rose Gold Labradorite that absolutely hits the spot! 
Being co-owner of Mom's, Head Manager, and Piercer she has seen all sides to our body jewelry options. 
As an APP Member Shandra does an incredible job balancing each task with the ultimate care. You can schedule a piercing with Shandra Tuesday, Friday, and Saturday.    
Shop Jewelry Online or In Person at Mom's of Spokane
If you are curious about any of these styles or shopping for your unique jewelry collection, head over to our eCom store momsjewelry.com. If you are in the Spokane, Washington area, call or go on momstattoo.com to make a piercing or jewelry buying appointment with us!
As always, we love you so much! Take good care of yourself and each other.
With Love, 
Mom's