Celebrate Star Wars Day and Geek Pride at Moms with a tattoo, a piercing, or new jewelry. May the Fourth be with you!
STAR WARS DAY
"May the Fourth be with you" a pun started by fans of the beloved Star Wars Empire.
The playful twist of words serves as a celebratory greeting on May 4th in honor of Star Wars Day. Star Wars Day is a holiday dedicated to the successful science fiction space odyssey that has enthralled the minds and imaginations of millions of people from around the world.
On this particular day, fans take the opportunity to show their love for the beloved brand in many ways. Diehards throw parties and participate in cosplay competitions. Baseball stadiums honor the Star Wars franchise by inviting characters to attend the games so patrons can take pictures with them. Some people even get Star Wars Themed Tattoos representing a significant parallel to their own life experience along with the storyline of the saga. This special day occurs annually on May 4th and has become a beloved tradition for those who celebrate.
All of this is done to show appreciation and sincere gratitude for George Lucas's mind-blowing space adventure that started over 40 years ago.
We think the best part of Star Wars Day is taking the day to re-watch the chronicle the day was created for. With 19 movies and a multitude of characters from Luke Skywalker, Han Solo, General Leia Organa, Obi-Wan Kenobi, Darth Vader, The Ewoks, and Jar Jar Binks, Star Wars fans have a variety of characters to love and hate.
Some fans develop such a deep devotion to the Star Wars empire that they choose to pay homage to the franchise by tattooing images of beloved characters on their body. Since tattoos are forever, some fans want to show their eternal adoration and dedication to Star Wars Culture by getting one on this particular day.
STAR WARS JEWELRY
With such avid fans, it's no wonder why some jewelry makers jumped at the opportunity to make their own imprints on the franchise.
BVLA (Body Vision Los Angeles) is amongst the finest leaders in the piercing industry's jewelry designs. They have an array of fun Star Wars Themed Items including a Stormtrooper, Darth Vader, C3P0, and R2D2! BVLA even has access to fine rings and other jewelry styles. Also seen here is the Death Do-Us-Part Star, ALWAYS! by BVLA in White Gold and Emerald.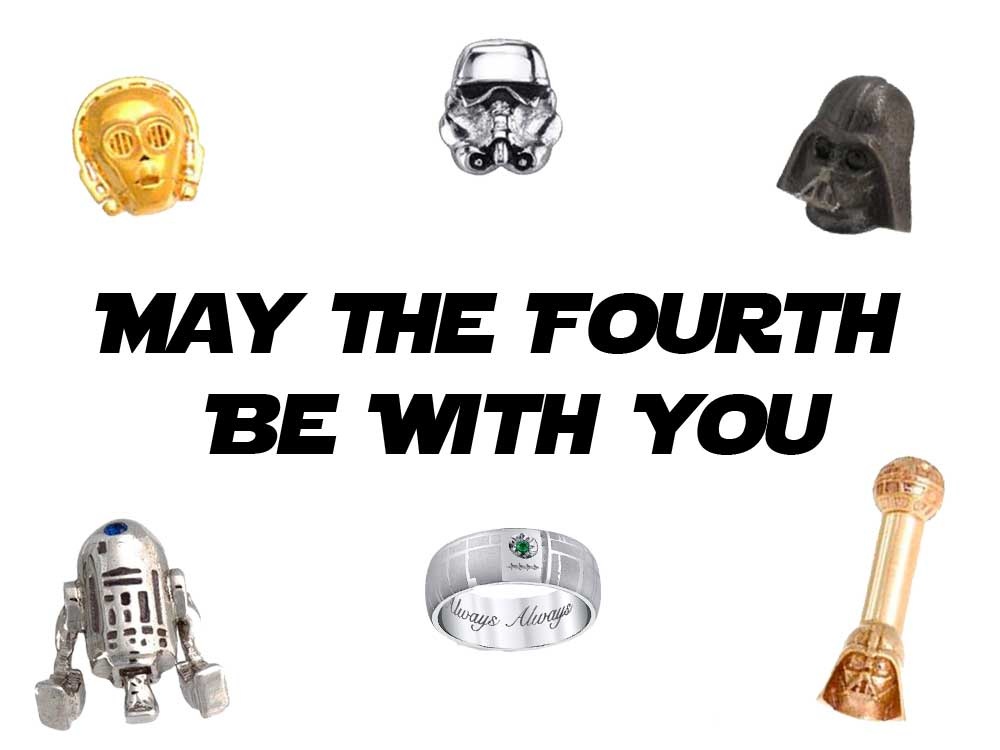 We can always Special Order these items and others with your desired color and stone specifications whenever possible.
Here are some popular tattoo themes:
Baby Yoda - Grogu
Star Wars fans were delighted when Disney plus added one of the newest characters to the Star Wars adventure line-up.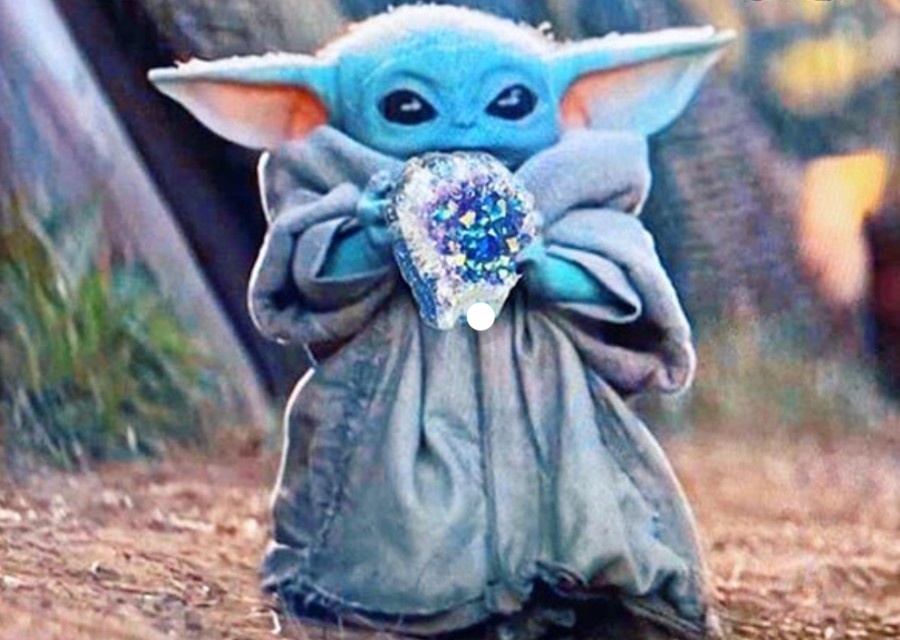 "The Mandalorian" starts 5 years after 'Return of The Jedi" from the original Star Wars series. It follows a lone bounty hunter who is dispatched to assassinate an unknown target. However, when he finds the target to be an adorable baby creature (Grogu) he doesn't have the heart to follow through.
Thank goodness, because it just so happens that the adorable big-eyed Grogu bore witness to some pretty important moments from Star Wars' past and might just have a part to play in The Mandalorians Future.
This Star Wars fan had baby Yoda tattooed on his forearm, as a dedication to his favorite sci-fi character. Simple, minimalist, black lines are used to outline The Child. Grogu stands in a circular design that frames him and draws attention to the lone figure. The image is shaded within the geometric frame in a black gradient pointillism design that highlights Grogu.
Check out this adorable Baby Yoda by our very own Bonnie Gillson.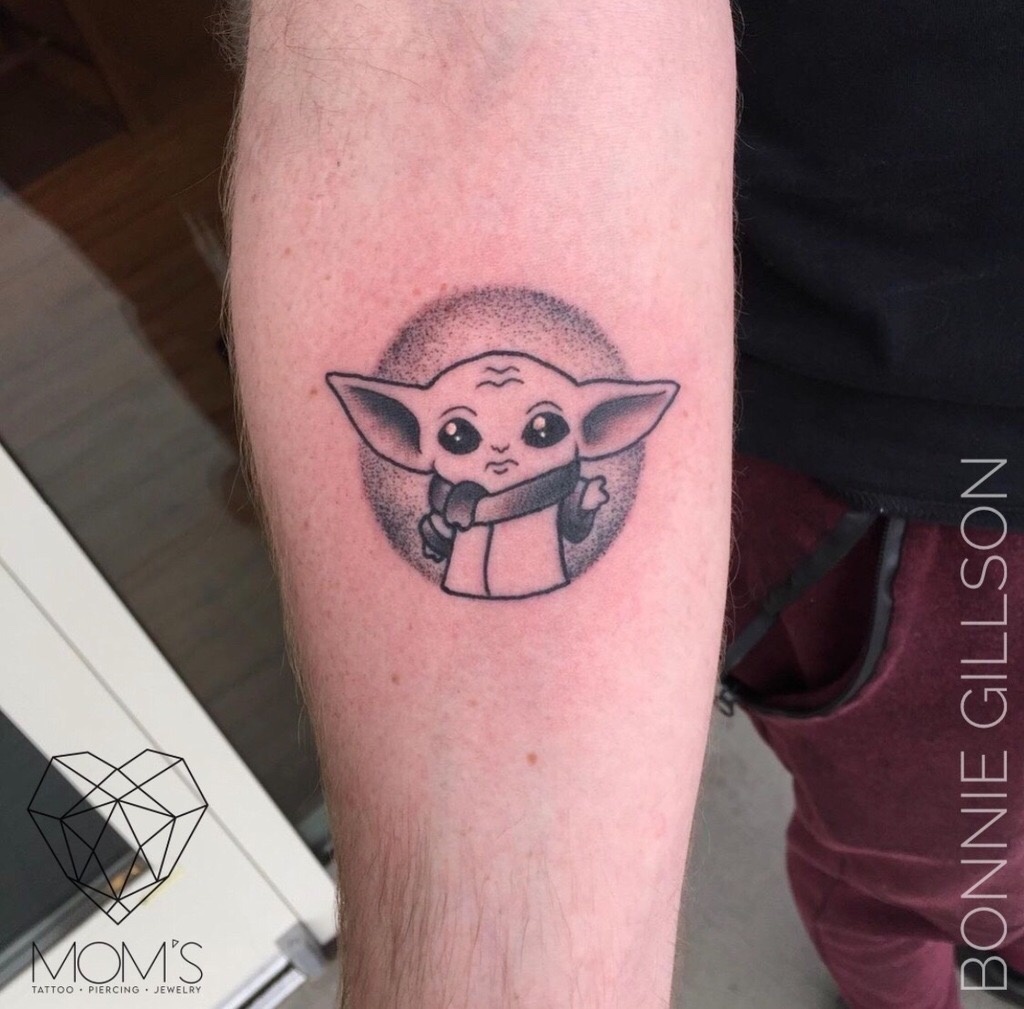 Darth Vader
Ok, ok, Darth Vader is a really bad dude, but he's so cool! I mean, he owns the Cadillac version of space ships, and he named it The Death Star. His Lightsaber is blood red, like the pits of hell where he probably goes when he dies. And that voice. His voice is unmistakable. That deep baritone timbre that's a smooth drink of brandy underneath his breathy mask is captivating. As a character, he is dynamic. A bad guy who, in the end, offers his own life for that of his child's. Darth Vader is the tragic, cool, rad dad of the Star Wars universe. You can't help but love to hate him.
His story arc is just as complicated and interesting as he is. As you watch the Star Wars series, you learn Darth Vader wasn't always on the side of evil. He grew up as a slave, who rose up to become a celebrated chosen Jedi knight.
This Darth Vader tattoo is designed with bold lines and a splash of color that is reminiscent of a traditional style with a twist of science fiction lure. There are also nods to Tattoo Culture stylized line work which can be seen against a colorful background of flowers.
Did someone say Marth Vader??!!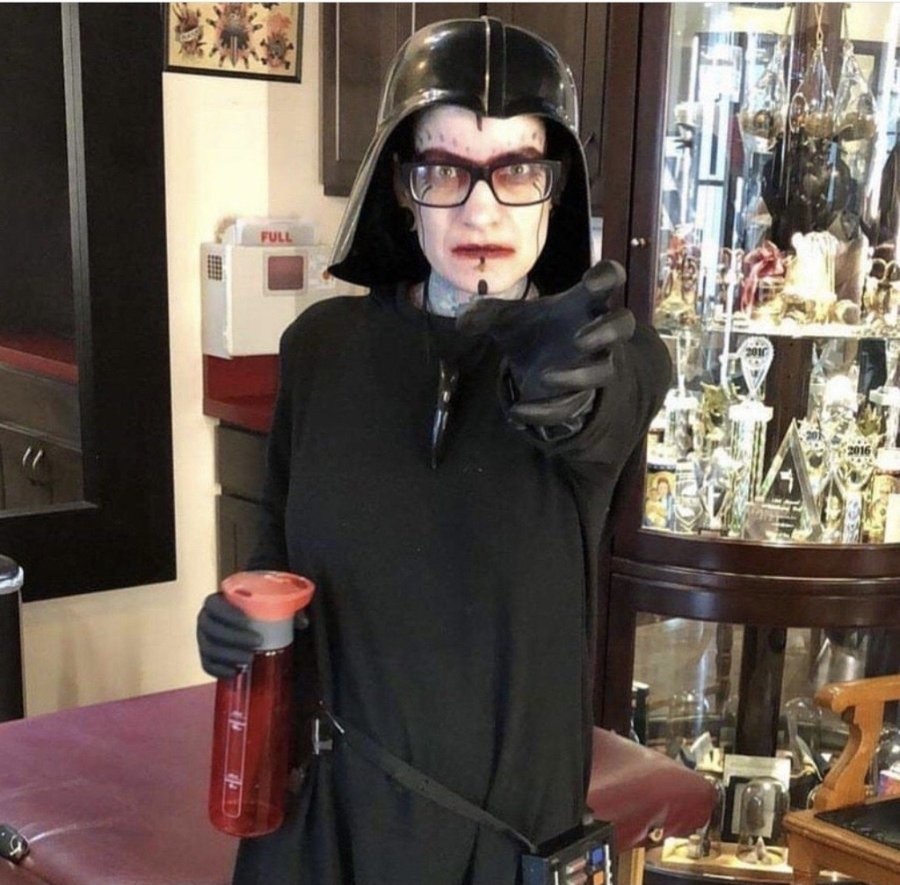 Our very own Anji Marth designed this Darth Vador chest piece for one of our favorite clients!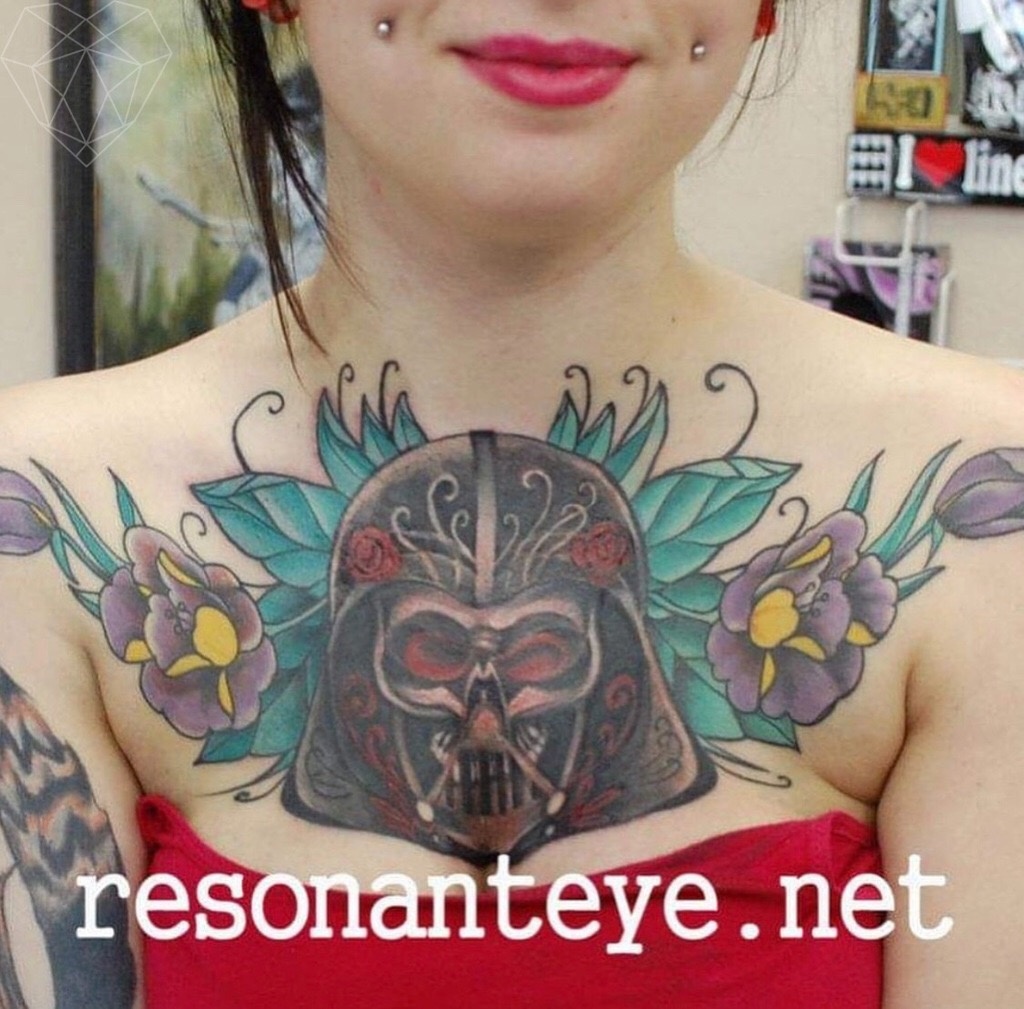 Rebel Alliance
Taking part in something for the common good is a reward in itself. Star Wars fans have built a community in many fun ways that connect with the Light Side. From simple to elegant designs, we have been witnessing many clients asking for Rebel Alliance emblems in an effort to Join The Resistance!
See this semi-realistic Rebel Alliance Tattoo our shop owner Beth Swilling did.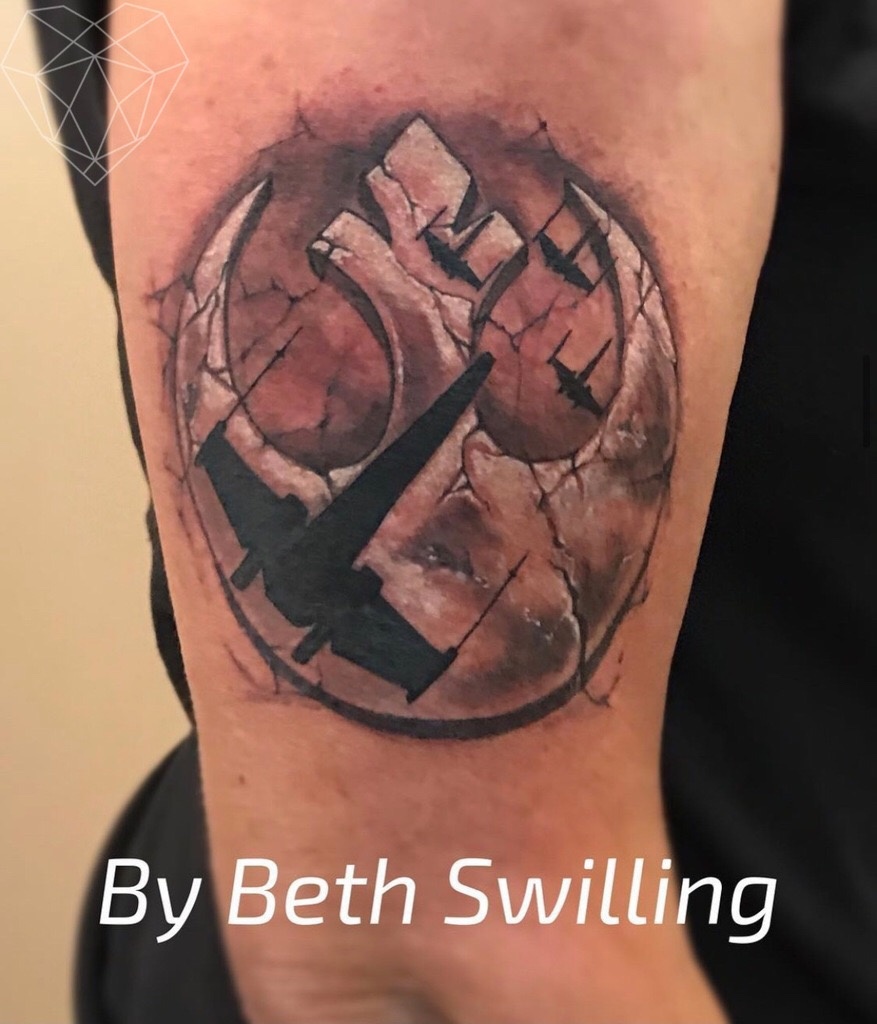 GEEK PRIDE DAY
For all the pop culture fans who don't celebrate May 4th, there is a day for them as well, and It's called Geek Pride Day.
Geek Pride Day was started in 2006 in Spain as an initiative to celebrate nerdom and pop culture around the world. On May 25th, fans who celebrate geek pride carry towels in honor of Douglas Adams, the author of "Hitchhiker's Guide to the Galaxy," a nerd staple. Fans form Meet-up groups, throw parties, and celebrate all things attributed to nerd/ pop-culture society. They celebrate the chance to show their spirit and spread the word about the awesomeness of geekdom.
Just like Star Wars fans, geek pride day is a wonderful day to get a tattoo to show how intense and devoted a fan is to their favorite character or fantasy brand.
Adventure Time
Face your fears along with the entire gang from Adventure Time! Joining our client's body are these sweet Finn The Human and Jake The Dog forearm tattoos by Bonnie Gillson in an effort to ban together in their post-apocalyptic world.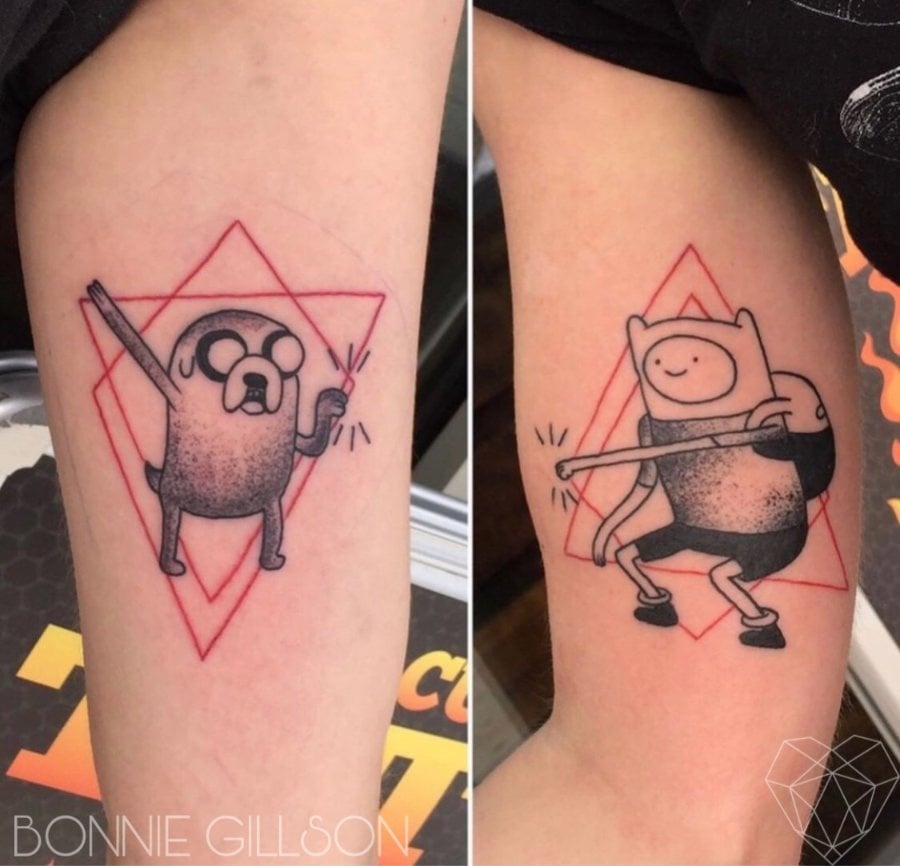 WALL-E
Another example is this sweet Eve and WALL-E Tattoo by Beth Swilling that will literally melt your heart all the way out in space. Soon enough you and your loved ones will find yourselves in a repeated match of "Ee-Vah" and "Wha-Lee" across your kitchen with the entire family.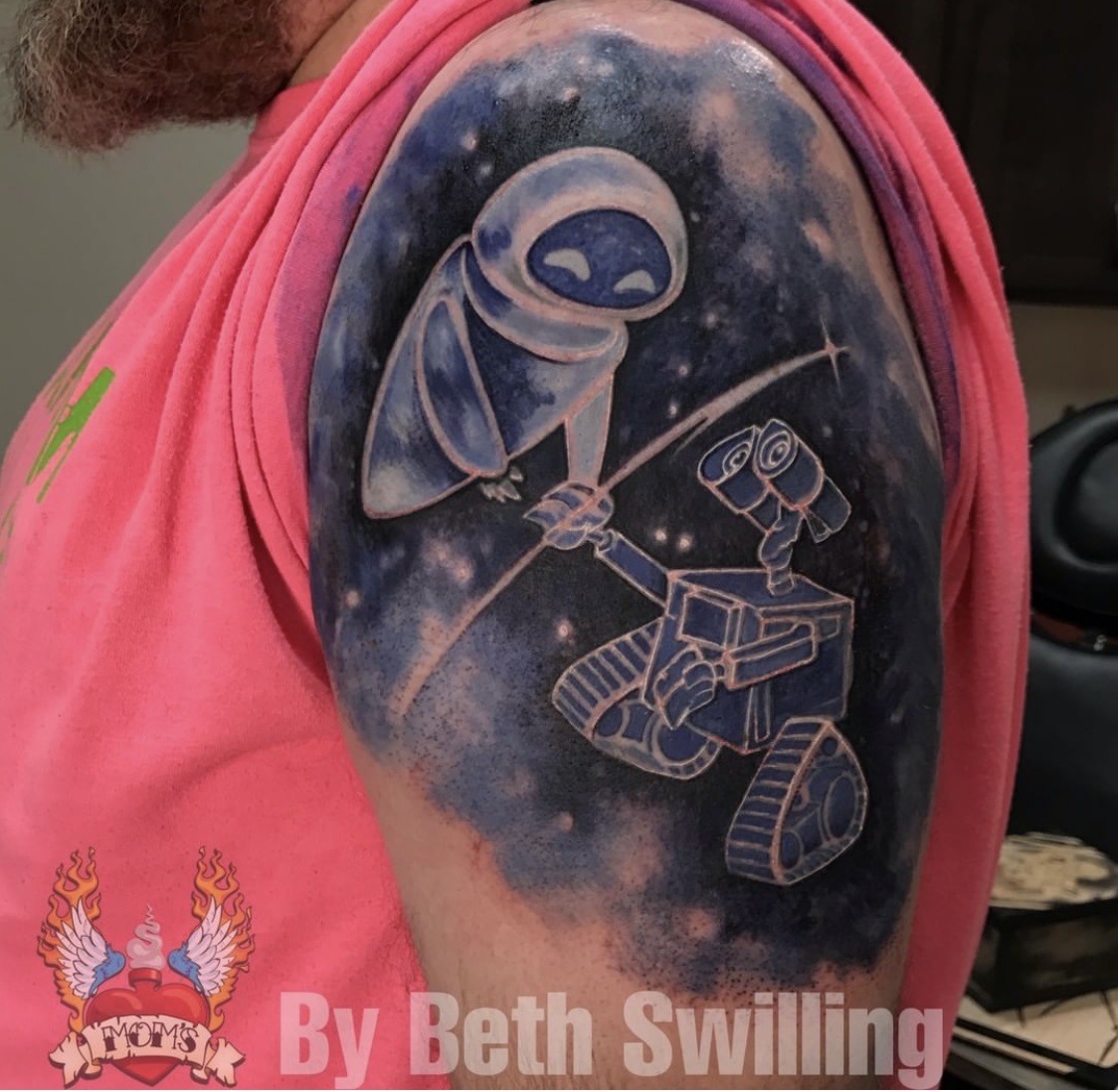 Alice In Wonderland fan?
You could fall down the rabbit hole into Alice in Wonderland's childlike abyss. No other tiny door has ever held such wonder behind it, besides Willy Wonka's Chocolate Factory perhaps. Seen here is Traci Manley's tattoo rendition of The Caterpillar sitting atop the famous mushroom that Alice eats which allows her to grow to regular size and adapt to her situation. Thus, answering the question The Caterpillar poses, "Who are YOU?".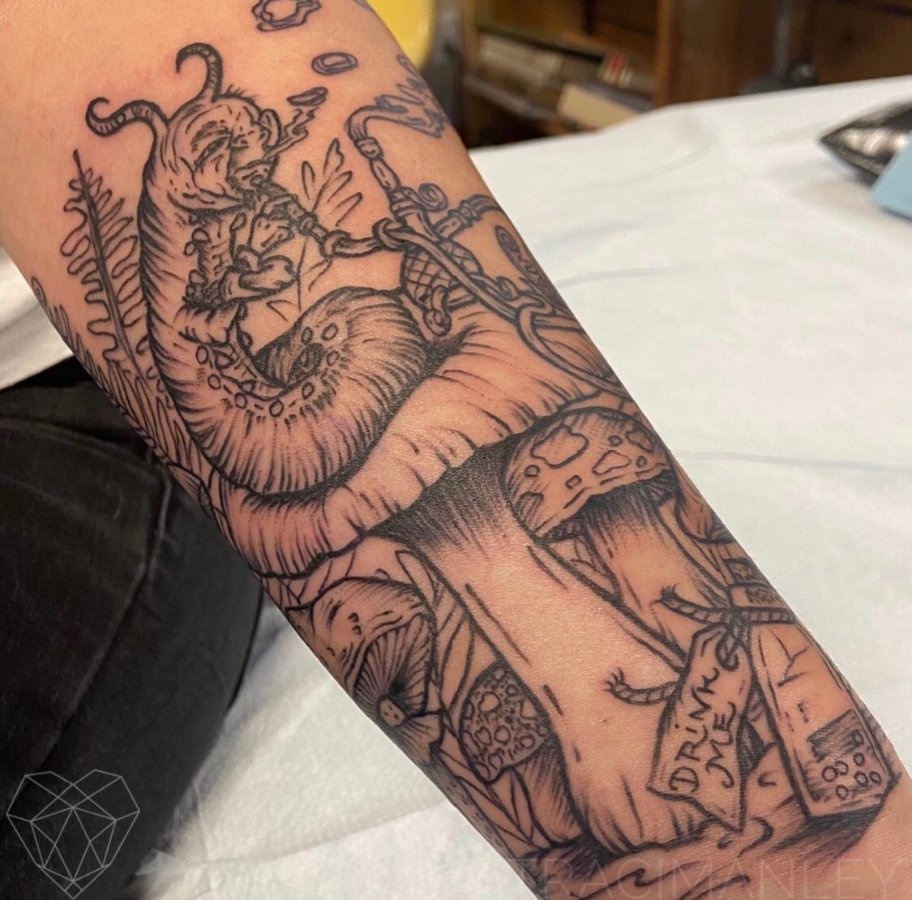 UFOs
For those who like both Piercings and Tattoos, we have some examples that are out of this world! Check out these Calypso UFOs in action by Modern Mood Body Jewelry.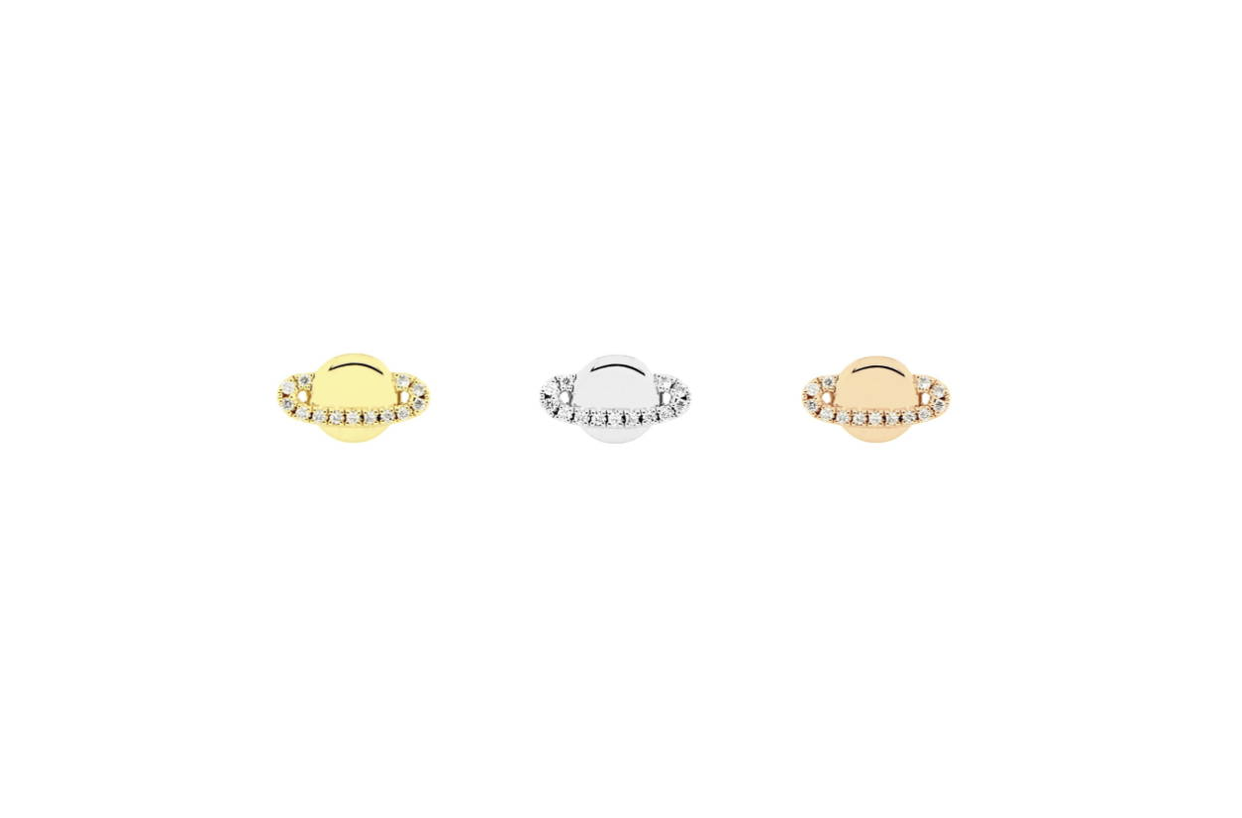 Also, this simple black and grey line work is done by Bonnie Gillson. It's every so cleverly framed in the heart of a camping trip by Area 51 gone awry. They are ready to take you to their leader!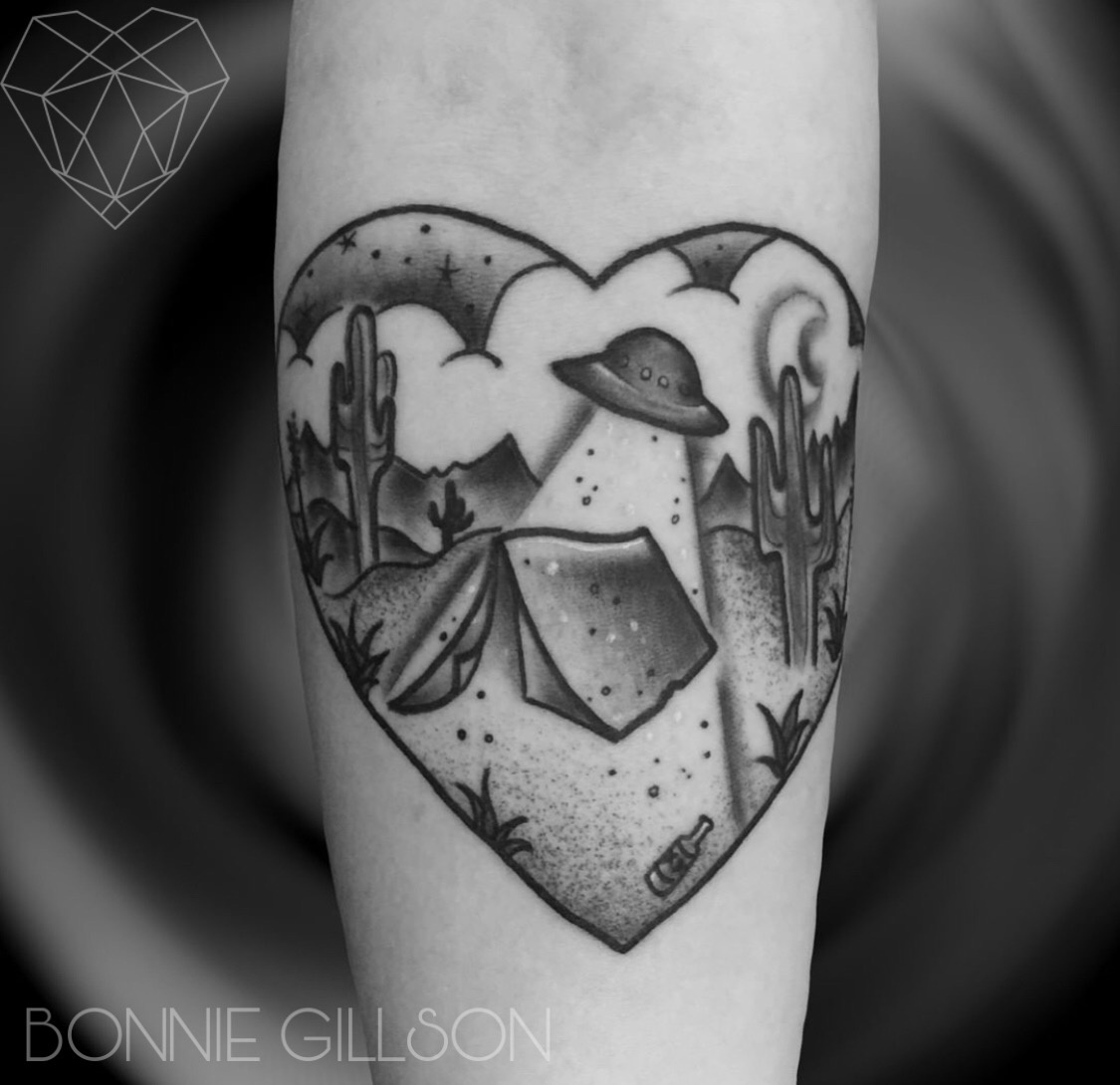 However, you choose to celebrate Star Wars Day and Geek Pride Day this year, a beautiful tattoo can commemorate your passion and loyalty every day. Consider your next appointment by checking out our current Booking Timeline on our website.
Like any of the jewelry styles that you've seen in this blog? Shop Online at Mom's Jewelry today. Special Orders are our thing! If we don't have it in stock we can order it!
Until our planets realign...
...May the fourth be with you.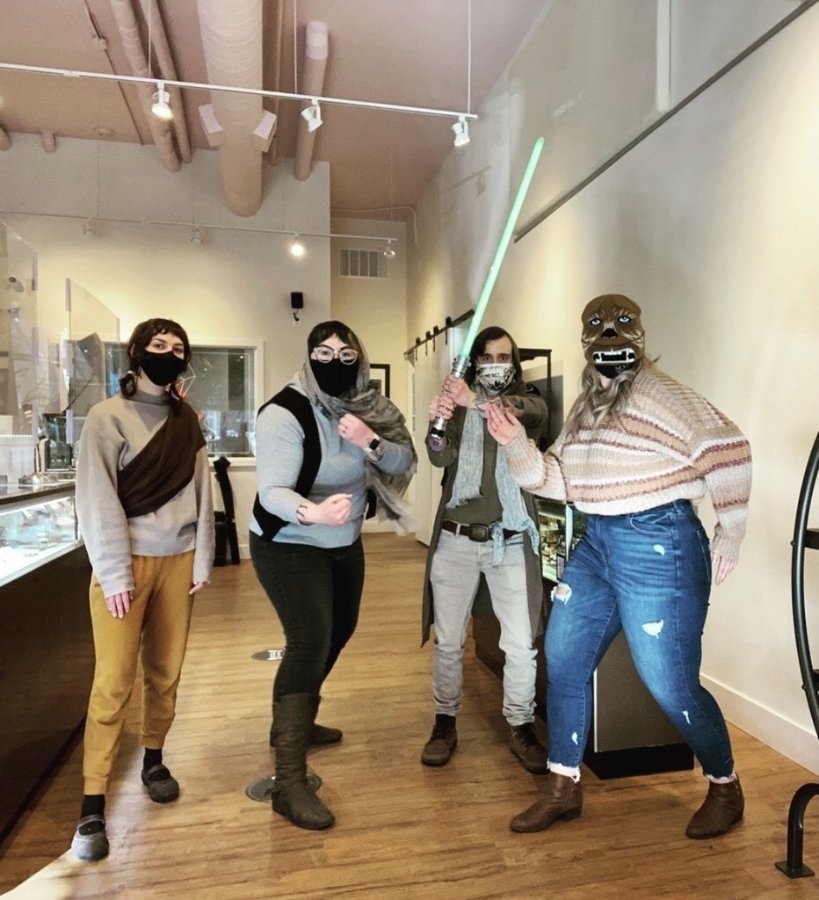 Love Always,
Mom's