Posted on
By Fe(lix) Wild
Learn all about the History, Science, Spiritual, Care + Use, Popularity, and How to Aquire More Amethyst in your Life!
Amethyst is part of the Quartz Family. 
This purple, or sometimes violet, stone picks up these wavelengths when iron meets gamma rays and silica-enriched water. Basically, when these components come together Amethyst grows in incredibly versatile ways. It is made all over the world so its healing properties are abundant for all to connect with. It can be worn in body jewelry as well as necklaces, rings, and bracelets. Amethyst can be decorative, ranging from tiny fragments to large organic pillars hanging out in our work and living spaces.
But what makes Amethyst so special?
Why can we not get enough of it and why do we always want more?
History of Amethyst
For centuries Amethyst used to be considered a rare stone and was treated as precious as rubies and diamonds. From Bishop's gigantic rings to loaded crown adornments, amethyst was highly sought after for those living in luxury. This was of course until the 1800s where more Amethyst mines were discovered in South America. After this, it was no longer considered a vibrant tone only for the noble class.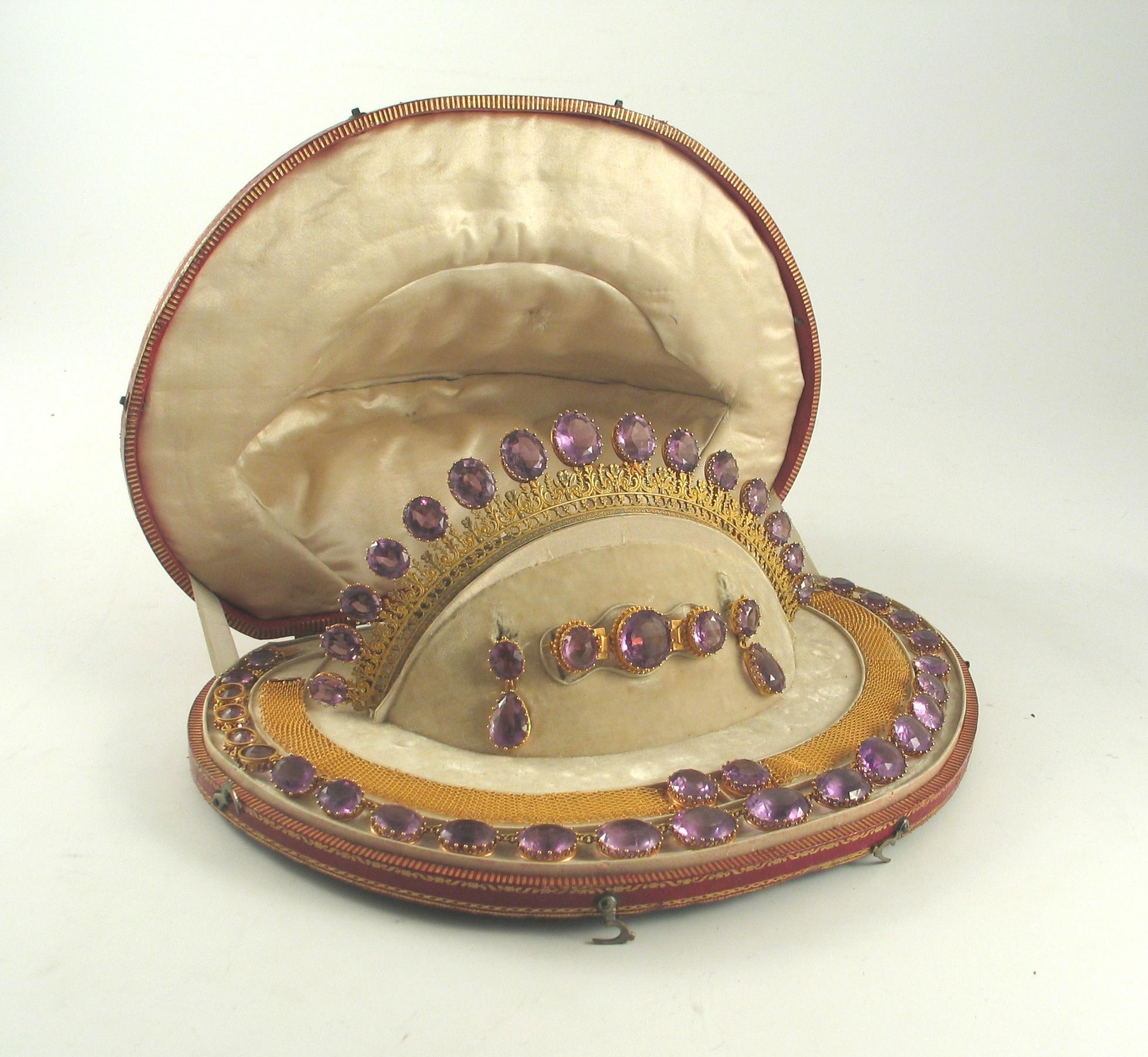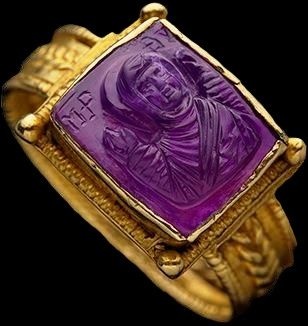 Science
It is generally composed of silicon and oxygen atoms. Like the Mint Family, Quartz grows naturally in abundance around many areas of the earth. It can also be lab-made using the same materials found in nature, though these crystals often show fewer imperfections and are used in jewelry to ensure consistent light throughout. During the growth stage, its volume changes due to temperature which allows members of the quartz family to fuse with other gemstones, rocks, and minerals. These can intertwine or become encapsulated by the Quartz itself. This happens in the case of Rutilated Quartz or Tourmalated Quartz for instance.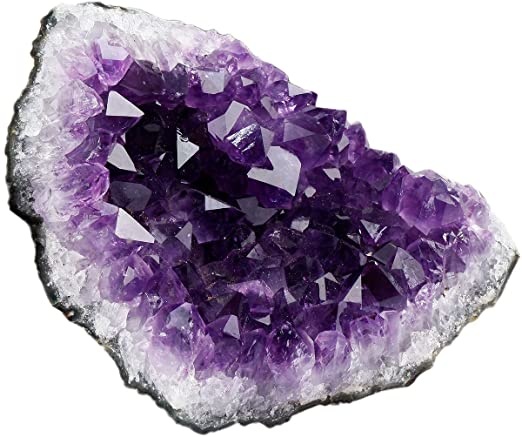 Spiritual
On a Spiritual level, Amethyst can help us get grounded in our ethereal vibrations as well as our earth reality. There's something really magical about amethyst that's hard to convey. It heals so many misalignments and wants to support us through a journey. 
It's a cleansing and auric/body cleaning stone that can help realign chakras and unhealthy attachments. It helps build on our spiritual awareness as it simultaneously connects us more solidly to the earth. It can also heal our body alignments such as migraines, getting good rest, boosting our immunity, and helping our bodies heal from stress and trauma.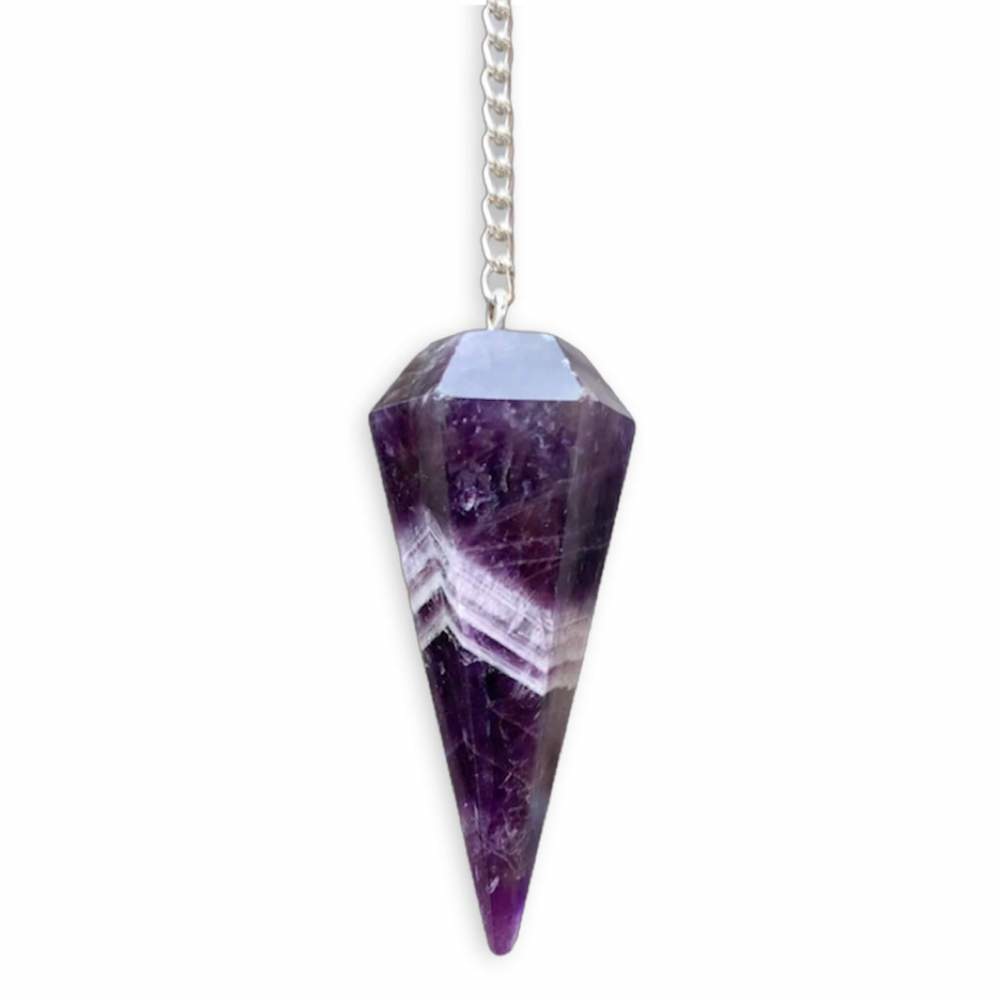 Care and Use
To clean the stone you can use salt, smoke from things like incense, or your own intentional breath. To charge your amethyst crystal with healing vibes you can keep it in the moonlight by having it sit on your window sill or in a protected area from the elements outside. 
Amethyst is also a beautiful stone to help influence your other stones. Keeping a group of different stones close to each other with amethyst around can influence the others and help make each one vibrate at their highest frequency. Another thought is that anything infused with Amethyst is said to amplify its gifts to that of the other elements it's enmeshed with.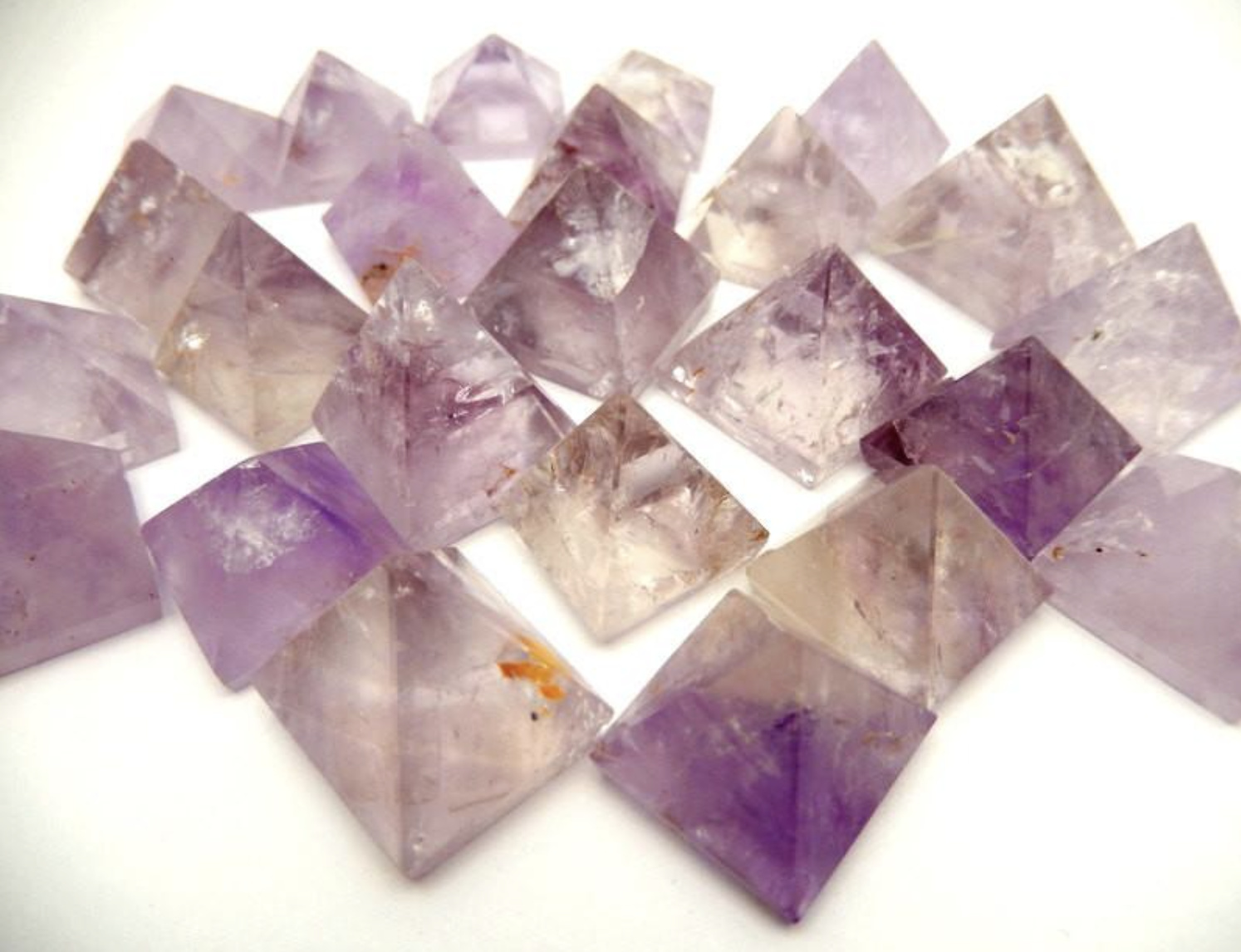 Popularity
We see amethyst a lot these days. Probably due to the world needing more of its understanding and compassion. It is beautiful to look at as its ombre of saturated purples and reds gradually makes its way to violets and lavender shades to lilac and finally white and clear quartz. Whether it's rough or polished, Amethyst can surprise us with how intricate and different each crystal formation looks that's impossibly breathtaking.
Check out styles we carry, like these Amethyst Pear Threadless Ends by Buddha Jewelry which give us all the feels.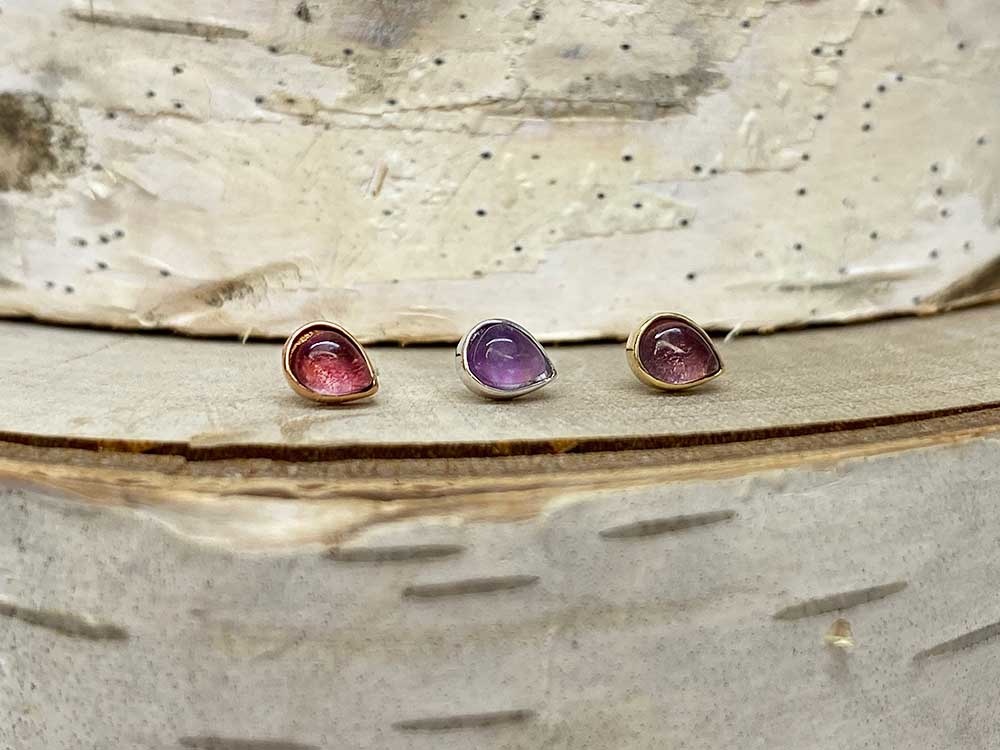 Or these Noble's in Amethyst + CZ Threadless Ends by Buddha Jewelry which is an amazing centerpiece of your ensemble.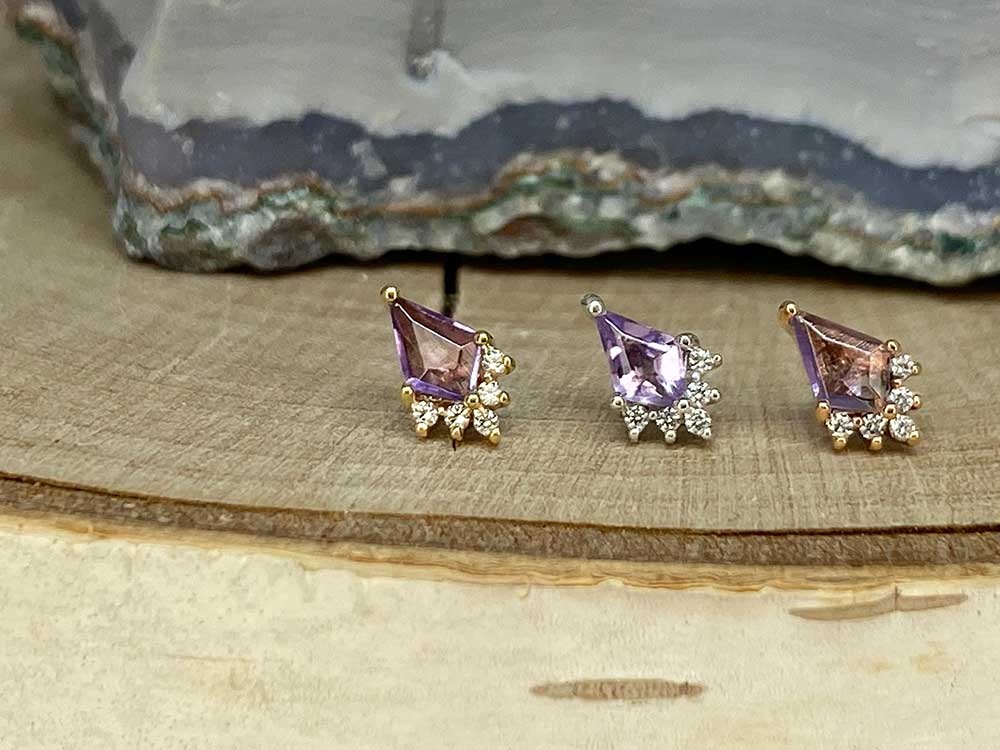 Need More Amethyst In Your Life?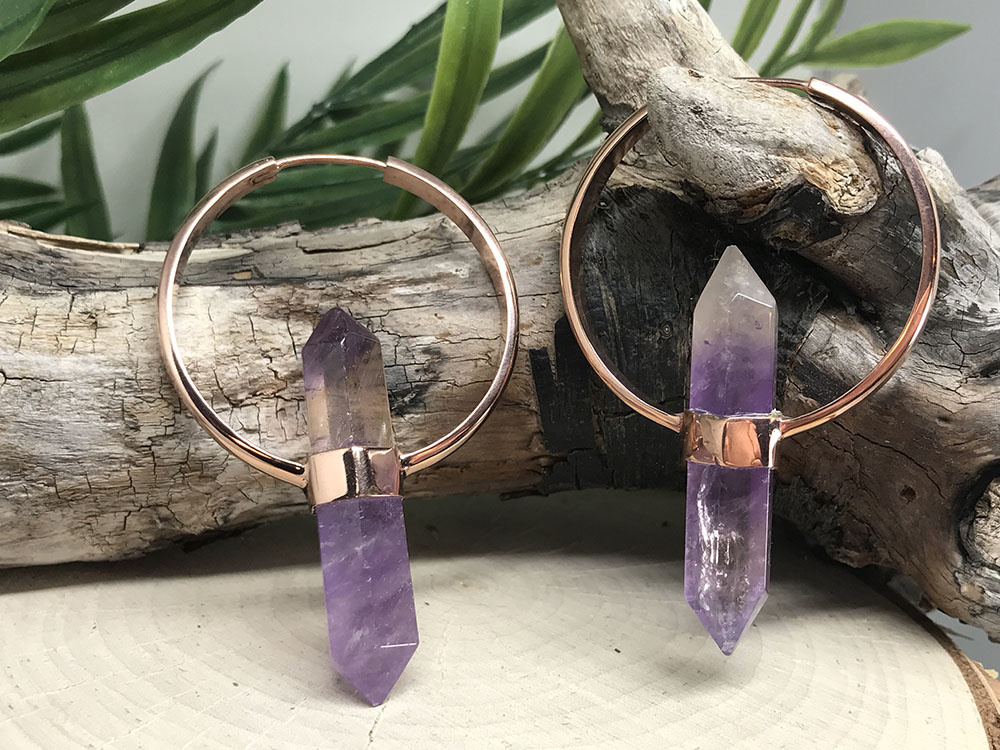 These Alchemy Rose Gold Amethyst Earrings by Buddha Jewelry are one of a kind show stoppers! 
Due to its 7 Rating Hardness on the Mohs Scale, it can be cut in a multitude of ways including Round, Marquise, Oval, Trillion, Pear, Baguette, Square, Rose-Cut, Sliced, or Raw, and more depending on the size and setting. We will continue to stock this gorgeous illustrious stone as it fills our studio with its loving heart space that fills our bodies (and eyes) with utter joy. 
We hope you find Amethyst as amazing, beneficial, and beautiful as we do at Mom's. You can always check out our current stock on our web store Mom's Jewelry. If you have any questions about acquiring more of this dynamic stone in your life, feel free to reach out.
(509)426-4465.
We are always here for you.  
Love Always, 
Mom's