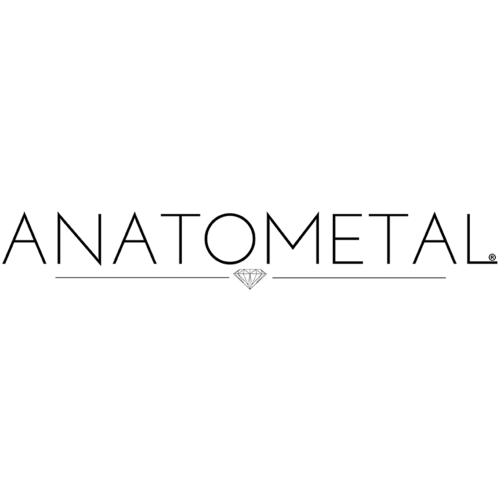 Anatometal
Established:
Team Members:
Small scale operation. Some of the founding members are still part of the team!
Mission:
" Our mission is to blend the best of 21st-century technology with research and refinement of manufacturing technique into a modern-day guild of responsible and committed craftsmen. We work daily to provide the highest level of caring customer support, drawing from personal experience with body piercing jewelry, the resources of on-staff professional piercers, and a passion for this ancient art.
Science blends with art as we constantly update and apply our knowledge of metal specifications for safety, comfort, and durability. We build on our prominence and hard-won success in the industry by demonstrating leadership in combining the finest American resources.
The use of domestic materials meeting our exacting standards, as well as a highly motivated and talented staff, is what makes Anatometal the most respected body jewelry company on the planet. Our vision brings into focus the ultimate goal of meticulously hand-crafting the best quality and classically designed body piercing jewelry.
This vision is achieved in every stage of production, from the use of implant grade materials and maintaining precision specifications; through hand polishing and packaging the fine products we've been proud of the Anatometal label since 1991.
Anatometal has been affiliated with the Association of Professional Piercers since its inception and was the first corporate member of the organization and we proudly adhere to their specifications and standards. After all, we created those minimum standards over two decades ago.
All of our products are designed and manufactured in the USA."
Location/Part of World They Work In: 
Describe Styles + Textures They Focus On:
This Vendor does an incredible job of featuring the Gold sections of their jewelry. 

High-quality materials that help you create the look and feel that inspires you. 

Show-stopping designs full of gems and hand-picked stones.

Playful Gold + Titanium settings.

Large collection of Round + Teardrop Plugs / Eyelets.   
Why We Work With Them:
From Unique Gold Designs to Seam Rings in all materials, to Posts, and Ornate Earrings for Traditional Sizes + Stretched Lobes, Anatometal has something for everyone.

They use the best materials for both healing and healed piercings. These include: ASTM F-138 certified implant grade stainless steel, ASTM F-136 certified implant grade titanium, Niobium, and 18 karat solid gold.
We trust them wholeheartedly. They have been in business as the longest producing manufacturers of quality wholesale jewelry in our industry.
Some of the nicest people to work within the piercing industry.
Jewelry (Specific Items) We Love to Carry: